Mt. Carmel High School Band
Kim Mandrell, Music/Chorus/Band Director, kmandrell@wabash348.com
The MCHS Band is a performance-based course that is designed to continue the development of technical proficiency of the student on his or her chosen instrument. Students must be accomplished instrumental players in order to participate as deemed so by the director. The student will be challenged by advanced high school literature. Concerts are a requirement of the course and failure to attend will result in a failing grade for the quarter. Members of the MCHS Band also participate in the following ensembles: MCHS Marching Aces and Aces Pep Band. Marching band rehearsals are held both after school and evenings during marching season in addition to one week of Band Camp each summer, which is a requirement of the course. Color Guard members enroll in band 1st semester only during marching band season.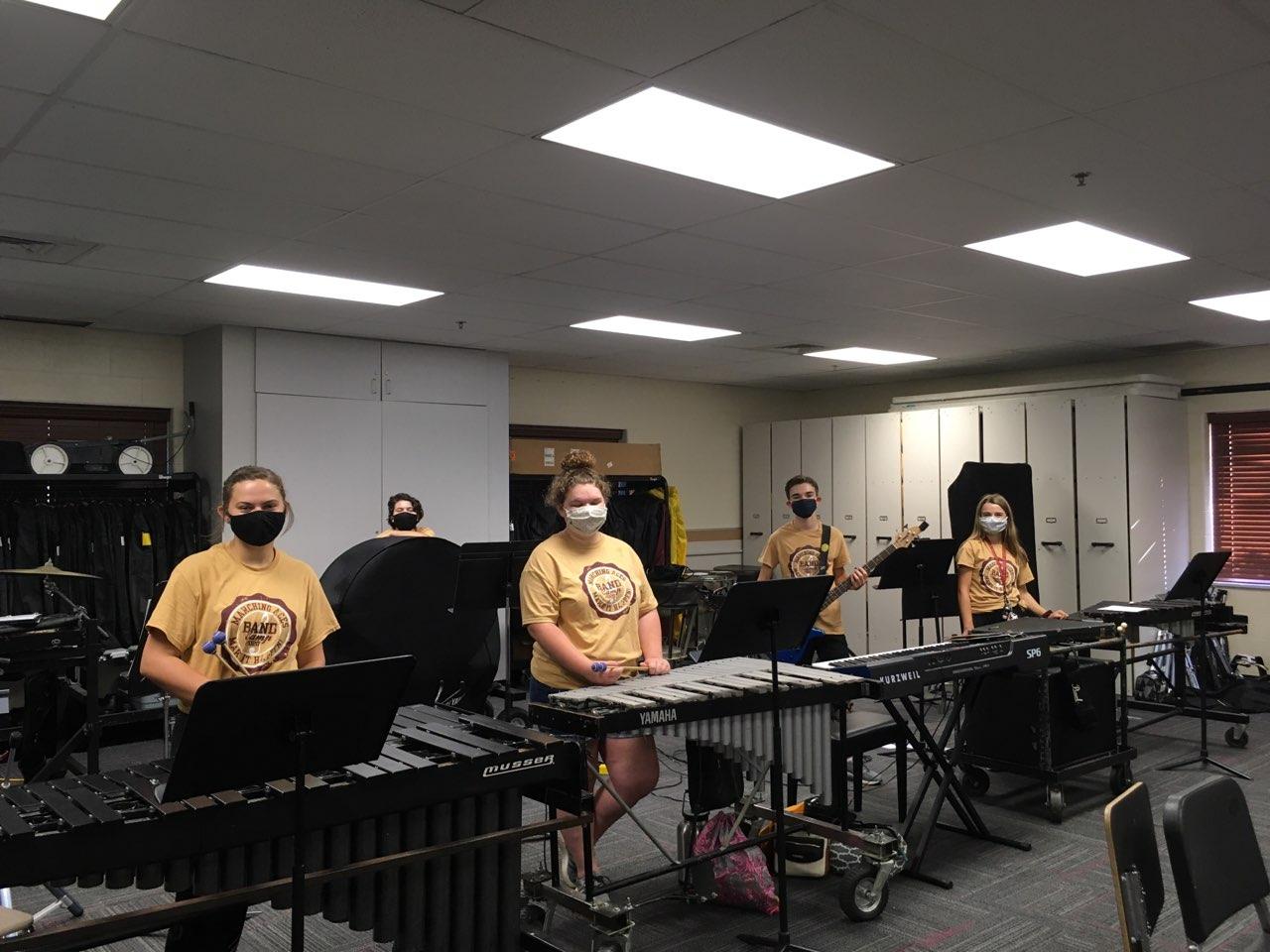 Presenting the 2020/2021 Season:
DRUM MAJORS: Riley Allen, Elijah Gill, Timothy Rosignol
SECTION LEADERS: Maggee Bleyer (Pit), Cooper Anderson (Trumpets), Adrianna Brown (Baritones), Riley Allen (Drum Major/Clarinets/Flutes), Alexandria Archer (Clarinets, Flutes), Hannah Shular (Baritone Saxophones), Lily Foshee (Drum Line), Addy Pierce (Color Guard), Harley Curtis (Alto Saxophones), Chase Dowdy (Mellophones), Eli Sherman (Trombones), Elijah Gill (Tenor Saxophone), Jaco Wall (Tubas).
FLUTES: Haley Deisher, Margaret Harness, Adeline May, Molly Rafferty, Lexie Schmittler.
TROMBONES: Eli Sherman (Section Leader), Timothy Rosignol, Wyatt Bader.
TENOR SAXOPHONE: Elijah Gill.
ALTO SAXOPHONES: Harley Curtis (Section Leader), Sylvia Miller, Katelynn Stevenson.
BARITONE SAXOPHONES: Hannah Shular (Section Leader), Wyatt Alka.
BARITONES: Adrianna Brown (Section Leader), Abby Plassman, Macy Mandrell.
MELLOPHONES: Chase Dowdy (Section Leader), Brady Kolb.
TUBAS: Jacob Wall (Section Leader), Jayden Pettyjohn.
CLARINETS: Riley Allen (Section Leader), Alexandria Peach (Section Leader), Rhiannon Anderson, Tori Madlem, Tesa Bailey, Mercedes Gill, Holly Lofton, Jason Miller.
TRUMPETS: Cooper Anderson (Section Leader), Jonathon Bader, Christopher May, Gabe Henson, Kamden Pritchett, Aaron Curtis, Dayton LaVarier.
DRUMLINE: Lily Foshee (Section Leader/Snare Drum), Ally Bobbitt (Bass Drum), Nathaniel Garrison (Bass Drum), James Martin (Tenor Drums), Emmalee Bertram (Cymbals), Noah Alka (Bass Drum).
PIT: Maggee Bleyer (Section Leader/Synthesizer/Mallets), Anthony Bleyer (Bass Guitar/Aux), Elizabeth Kasinger (Mallets), Halie Peach (Mallets/Aux), Audrey Baker (Mallets).
GUARD
COACH: Ambre Norrick
COLOR GUARD: Addy Pierce (Section Leader), Alexzandria Hicks, Chloe Martin, Ashlyn Peach, JayLynn Seal, Breanna Slunder, Janea Mack.