Anyone interested in attending Western Illinois University, contact Mr. Taylor regarding scholarship information.
Congratulations Hailey Groah on your much deserved and well earned student spotlight! You make the art department very proud. For more of Hailey's and more exciting Art Foundations artwork, check out the display case near the office, our instagram, and our facebook! Mchs Visual Arts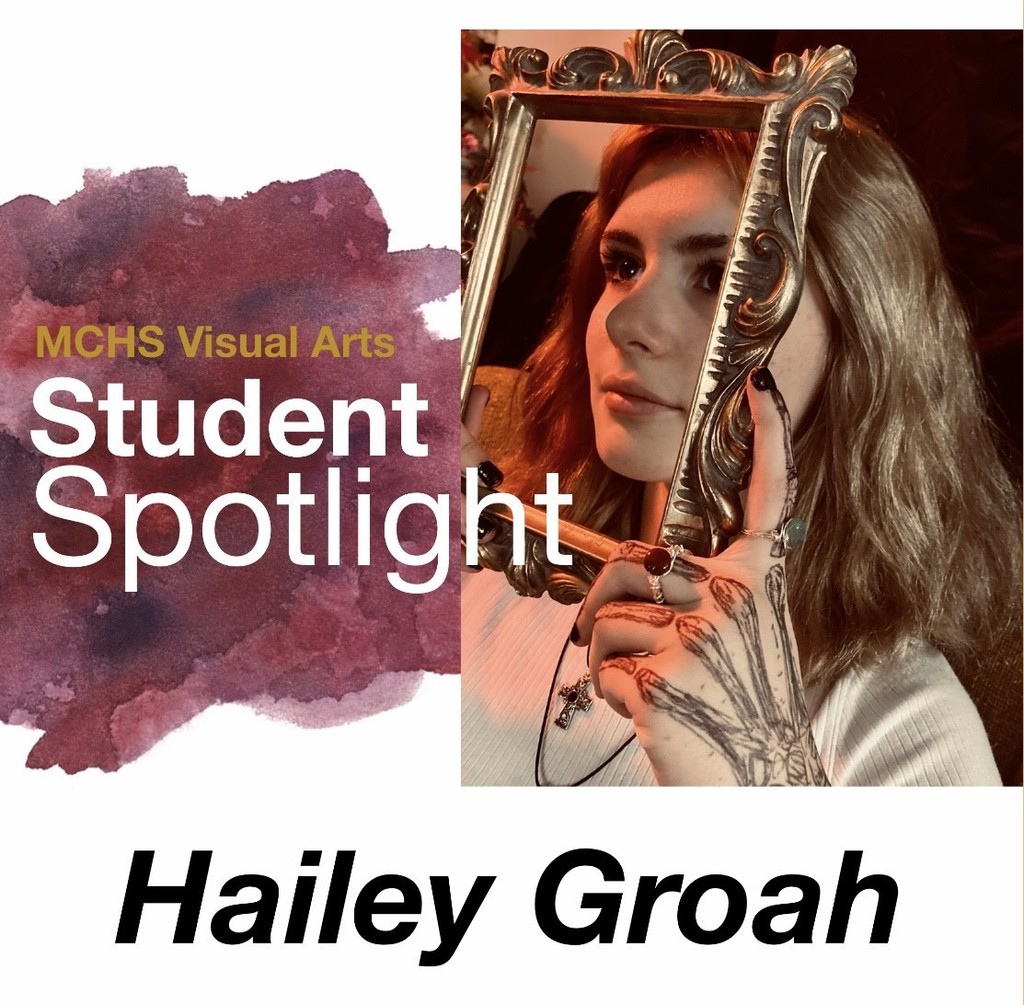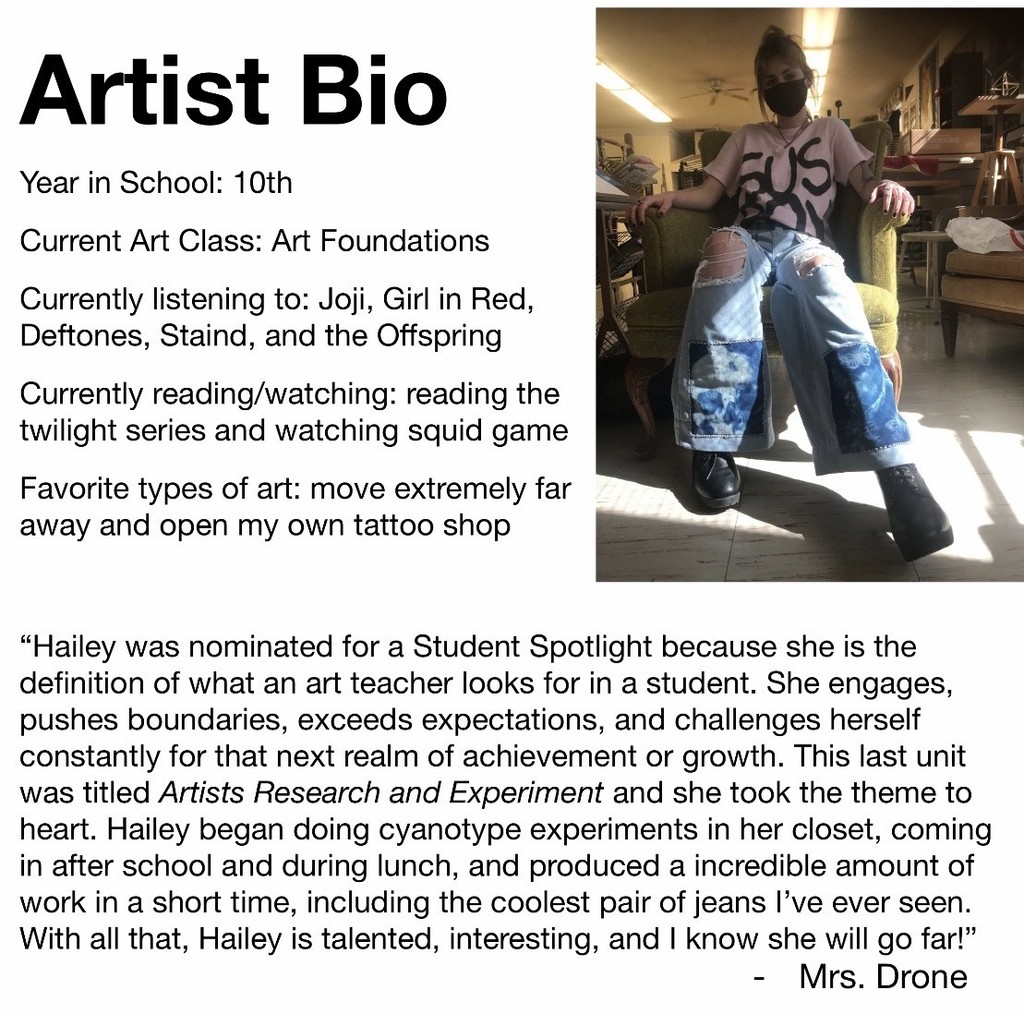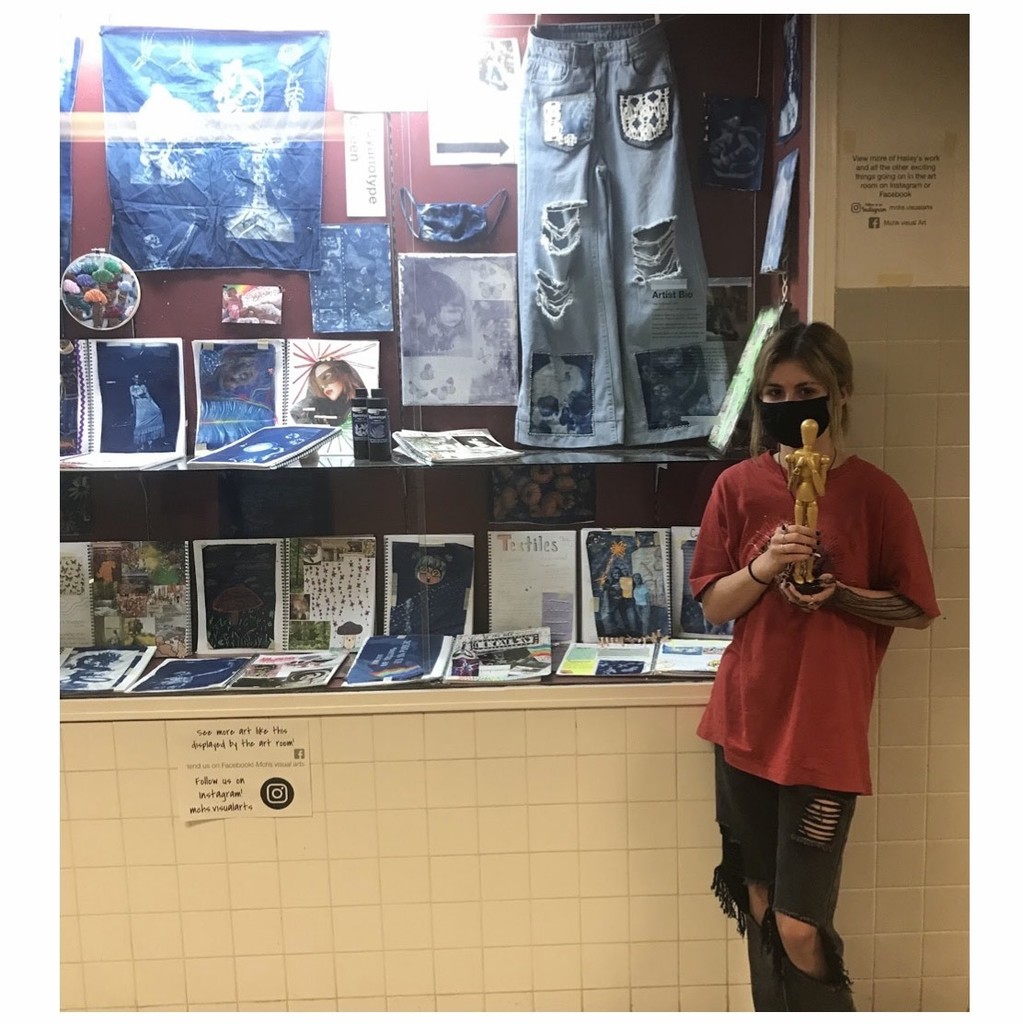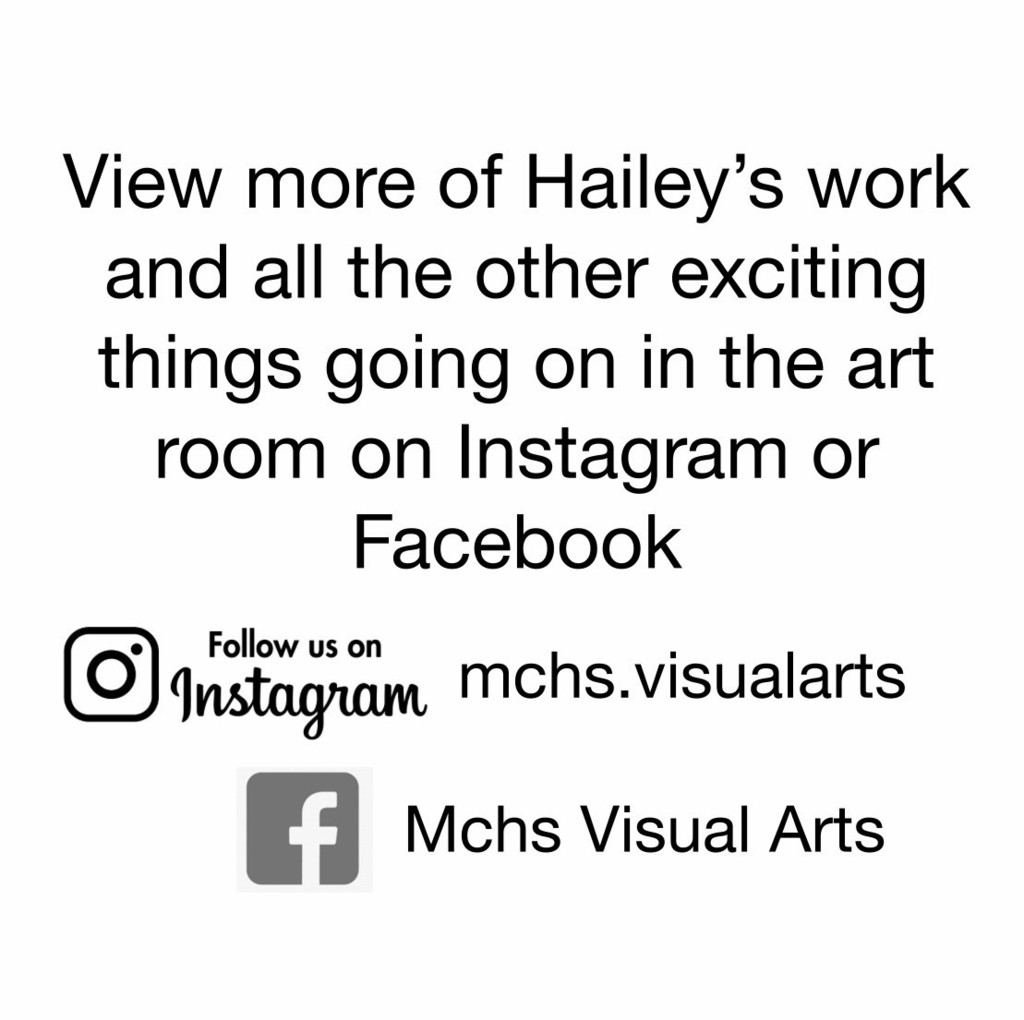 Seniors: A Wabash Valley admissions counselor will be outside of the Guidance office next Tuesday during lunch hours, please stop by for information.
A message from Jane Owen, Financial Aid Coordination at Wabash Valley College. The priority deadline for our Freshmen scholarships is October 29. Students must have applied to the college and also filled out the FAFSA by the 10/29 date. If you need help filling out the FAFSA you may call the college to make an individual appointment. 618- 262-8641 ext. 3154

Reminder for Students and Parents: The Free Application for Federal Student Aid (FAFSA), is a form every student must fill out their Senior year for graduation and also to receive federal financial aid for college. The FAFSA helps determine what financial aid a college bound student may be eligible to receive from state and federal sources, including MAP and Pell Grants, and Stafford Loans. Many colleges require the FAFSA to be completed before a student is considered for any others scholarships offered by the college or university. The FAFSA must be completed online and takes about 30-45 minutes. You will need information including social security numbers and the previous year's taxes. The application and information can be found at
https://studentaid.gov/h/apply-for-aid/fafsa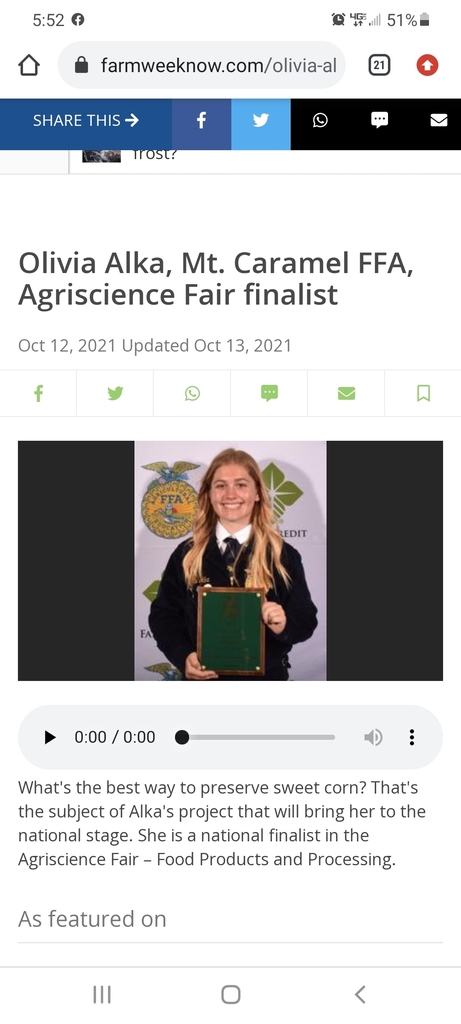 As a reminder, picture retake day is coming up on Thursday, October 21st. This is for those students who did not get their picture taken in early September or if you would like to return your original pictures and get them retaken for a new set. If you have any questions, please call the school office at 618-262-5104.
2022 Illinois Chemical Education Foundation Scholarship $2000. Deadline March 5, 2022 Information available in the Guidance office
The Hagan Scholarship is a nationwide need-based merit scholarship designed to help rural students graduate college debt-free. The Hagan Scholarship Foundation has awarded over 2,400 scholarships. Over 600 more scholarships can be awarded in April 2022. The scholarship provides up to $48,000 over four years to attend college and other benefits. Hagan Scholars are currently attending 378 colleges and universities located in 46 states. To be eligible for a Hagan Scholarship, applicants must have a substantial financial need and must graduate from one of over 6,000 eligible public high schools listed on the HSF website. Recipients are selected based upon academic ability, achievement in and out of school, personal goals and future promise. Recipients of a Hagan Scholarship must maintain a four-year graduation schedule, achieve a 3.00 GPA each semester, maintain a 3.25 CGPA, earn 30 credit hours each academic year excluding summer school credits and work 240 hours in the 12 months prior to fall semester enrollment at college. To help scholarship recipients obtain a practical understanding of important life skills not typically covered in the college curriculum the Foundation provides a free summer workshop for second and fourth-year recipients, a $15,000 investment account for each second-year recipient to manage until graduation in order to learn "first-hand" how to invest to attain long term financial security, and the opportunity to study and travel abroad after the third year of college at no cost to the recipient. About 80% of the recipients who graduate college while in the Hagan Scholarship Program will graduate debt-free with several thousand dollars in their personal brokerage account. These individuals are high achieving, hard-working, goal-driven and well equipped to realize their full potential and attain financial security. Hagan Scholarship Foundation 2021-2022 Eligibility Requirements 1. Must be a U.S. Citizen. 2. Must attend an Eligible Public High School. 3. Must have achieved a 3.75 Cumulative Grade Point Average. 4. Must enroll at an Eligible Four-Year College or University the first semester following high school graduation. 5. Must maintain a four year or less graduation schedule in college. 6. Must work 240 hours during the twelve months prior to fall semester college enrollment. Preferred employment is regularly scheduled work performed under supervision for compensation. 7. Must provide the FAFSA SAR showing the EFC. Must be Pell Grant eligible. The family EFC does not have to be paid, it is used only to determine disbursement amounts. 8. Must apply for Federal and State grants if eligible. 9. Must not have a felony conviction. The intended recipient of a Hagan Scholarship is a high-achieving student having clear goals in need of financial assistance to attend college. If you meet the eligibility requirements you should apply for a scholarship. The award of a Hagan Scholarship has been life-changing for many recipients. Apply at the link be
https://haganscholarships.org/application/

Congratulations to Maleah Armstrong and Camryn Strine who advanced to the IHSA State Tennis Tournament with their 3rd Place finish at the Herrin Sectional this past weekend!
Red Ribbon Week October 25th - 29th Monday - Rally in Red Day- Wear all red, from your head to your toes (hats are allowed) Tuesday- Sock it to Drugs- Wear Crazy or mismatched socks Wednesday - Saying no to drugs is no Sweat - wear sweats Thursday - I'm too smart to try drugs - Be an Ace- Wear an Aces T-shirt Friday - "Boo" to drugs - Wear a school appropriate costume of your Hero ( Rules- No costume masks or costume weapons, Costumes must be PG. No Scary Costumes)
Seniors- Eastern Illinois University will be here Oct 27th. Sign up Sheet is in the Guidance office.

Check out ACES-TV!! Lady Aces Golf State Championship, get to know some teachers with a new game; THIS or THAT, Girls Tennis update, Band Competition update, and an intense Volleyball game SENIORS vs TEACHERS! >>
https://www.youtube.com/watch?v=2qsXxUAW5b4
<<

The Aces Store is back in business. The store is located in the Mt. Carmel Junior-Senior High School Library. See Mr. Cheesman or Mrs. Bleyer to purchase your ACES spirit gear. Also available are pencils, paper, erasers, highlighters, and folders. More items COMING SOON!!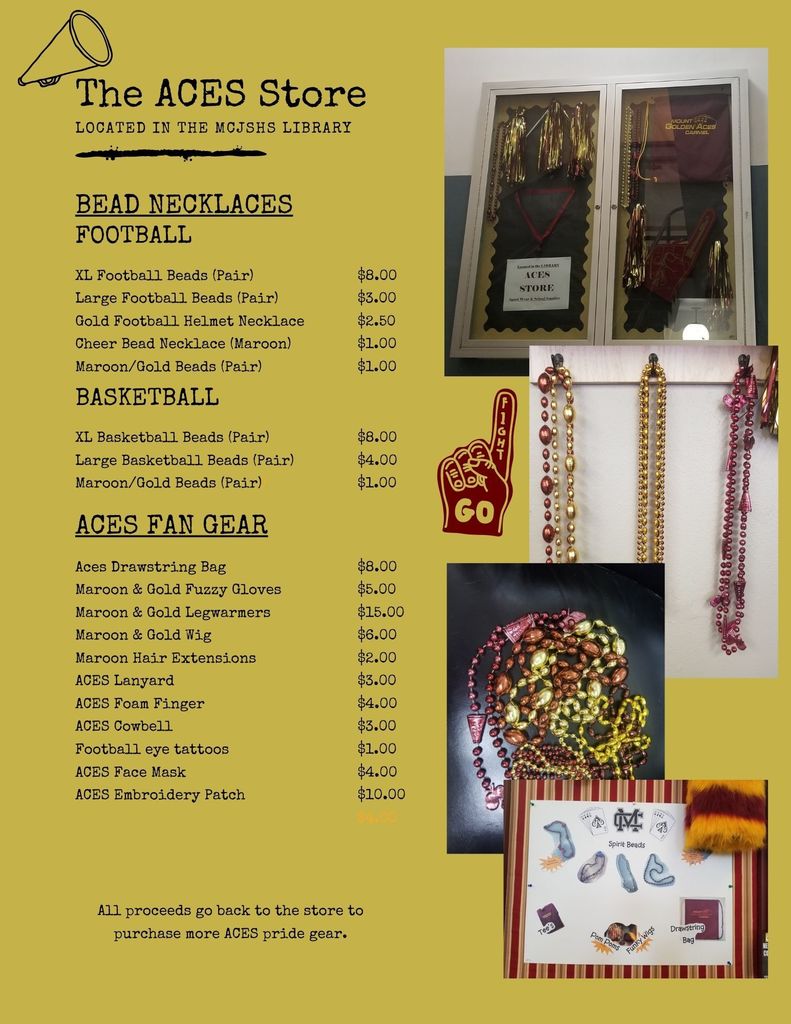 The Guidance office is proud to display our vintage Aces jerseys donated by Jack and Marcia Singer.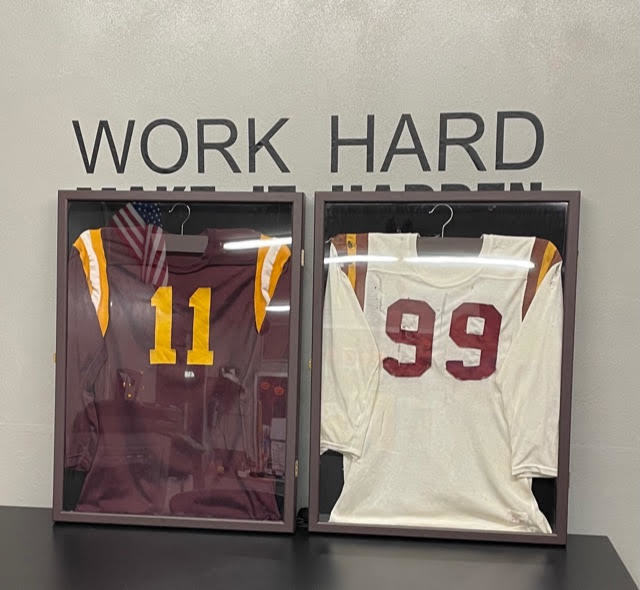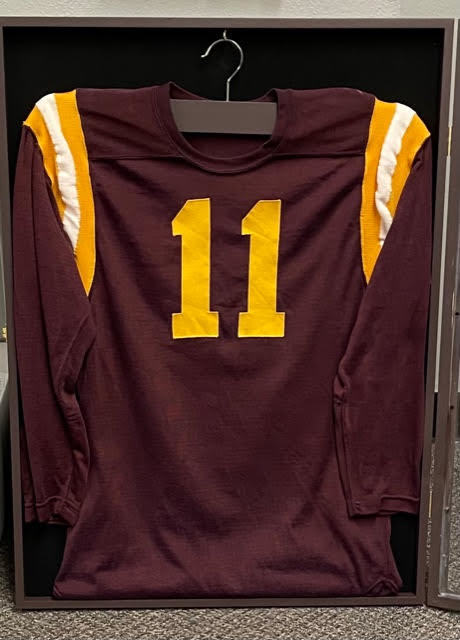 Parent-Teacher Conferences are 4-7 PM Tuesday, Oct 19th and Thursday, Oct 21st. Please contact Chris Pitzer in Guidance for scheduling at
cpitzer@wabash348.com

The Mt. Carmel High School Varsity Football team will officially accept the forfeit win and move to 8-0.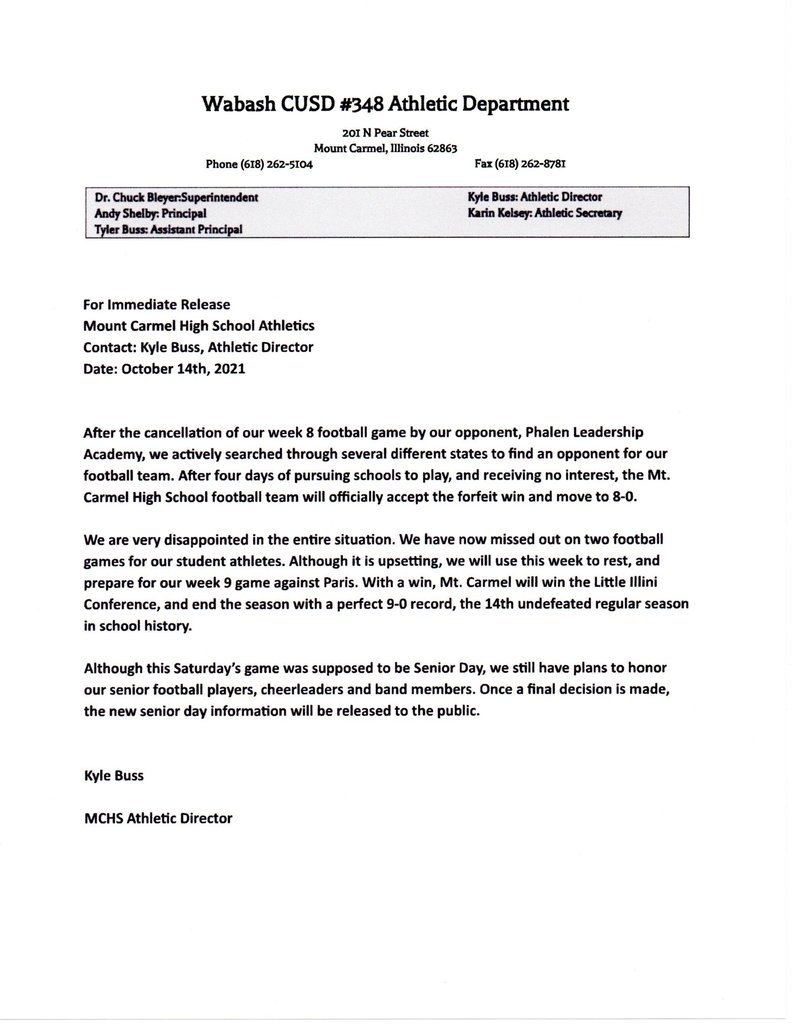 Lady Aces Golf Team is postponing the Trophy ceremony from Friday to Monday October 18, 2021, due to the possibility of rain. They will present their State trophy to MCHS Administration Monday at 2: 30 pm. The all school assembly will be held on the stadium platform and the community is invited to attend the assembly!
Elks Legacy Award Scholarship Legacy Awards are $4,000 scholarships available to children and grandchildren of Elks members. Eligibility requirements are outlined below. Who is Eligible? For the 2022 contest, any child or grandchild (or step-child, step-grandchild, or legal ward) of a living Elk who joined the order on or before April 1, 2019, or a charter member of a Lodge that was instituted on or after April 1, 2019, is eligible to apply. The Elk must also be a paid-up member through March 31, 2022. Great-grandchildren are not eligible. The applicant must be a high school senior. The applicant must apply online only. The 2022 Legacy Awards application deadline is February 7, 2022. If the applicant's parent and grandparent are both Elk members, the applicant must apply through the parent's Elks Lodge. We have waived the standardized test requirement for the 2022 Legacy contest. You do not need to submit ACT and/or SAT scores. Students may apply for more than one ENF scholarship; however, they may win only one. In cases where the student wins more than one, we will award the scholarship with the greater value. Students can accept local and state scholarships, which are separate from the awards at the national level. Legacy Awards may only be applied to accredited US American schools, colleges or universities. (Note: Applicants from Guam, Panama, Puerto Rico and the Philippines may apply Legacy Awards toward schools, colleges or universities in their respective homes.) If you are selected as a 2022 Legacy Awards recipient, you will be required to perform service once a year with an Elks Lodge during the four years you are receiving the scholarship. How Do I Apply, and What Are the Deadlines? The student must complete and submit the ONLINE application. The 2021 Legacy Awards application deadline is February 7, 2022. The Elk sponsor's membership will be verified through the BPOE Grand Lodge headquarters. When a student registers to complete the online application, both the applicant and Lodge Secretary will be notified by email. If you have questions about your online Legacy Awards application, contact the ENF Scholarship Office via email at
scholarship@elks.org
. Visit our Legacy Awards FAQ page. Upon receipt of the application, the applicant will receive a notification that the application was received. Winners will be announced in late April 2022. Note: Because the contest begins in one Lodge year and the winners are announced in the next, a Legacy Award could go to the child or grandchild of a lapsed member. An applicant's Elk parent or grandparent must be a paid-up member in good standing at the time of application, but if the Elk chooses not to renew membership, that decision will not affect the outcome of the Legacy Awards contest.
https://www.elks.org/legacyscholarship/
Elks Most Valuable Student Scholarship The 2022 application is open. Applicants will be judged on scholarship, leadership, and financial need. Eligibility: Current high school seniors, or the equivalent, who are citizens of the United States are eligible to apply. Applicants do not need to be related to a member of the Elks. High school graduates are not eligible to apply. Applicants must be citizens of the United States on the date their applications are submitted; permanent legal resident status does not qualify. The 2022 application deadline is November 15, 2021 at 11:59 p.m., Pacific Time Awards: The Elks National Foundation will award 500 four-year scholarships to the highest-rated applicants in the 2022 competition. Male and female students compete separately. Ranging from $1,000 per year to $12,500 per year, Most Valuable Student scholarships are for students pursuing a four-year degree, on a full-time basis (minimum of 12 semester hours), in a U.S. college or university. All scholarships are in the form of certificates of award conditional upon the full-time enrollment of the winner in an accredited U.S. college or university. The Chicago office of the Elks National Foundation will announce the 500 national winners in late April, 2022. (Many local Lodges, districts and state Elks associations award their own scholarships through this program. These scholarships are not to be confused with the 500 Elks National Foundation Most Valuable Student Scholarships.) The 20 Top Finalists traditionally* participate in an all expenses paid Leadership Weekend in Chicago during which they'll interview with the national judges. These 20 Finalists will be vying for two first-place awards of $50,000; two second-place awards of $40,000; and two third-place awards of $30,000. The remaining 14 finalists will receive awards of $20,000. The 480 runners-up will receive fifth-place scholarships of $4,000.
https://www.elks.org/scholars/scholarships/mvs.cfm