Mt. Carmel High School Music Department presents: The Addams Family, A musical comedy.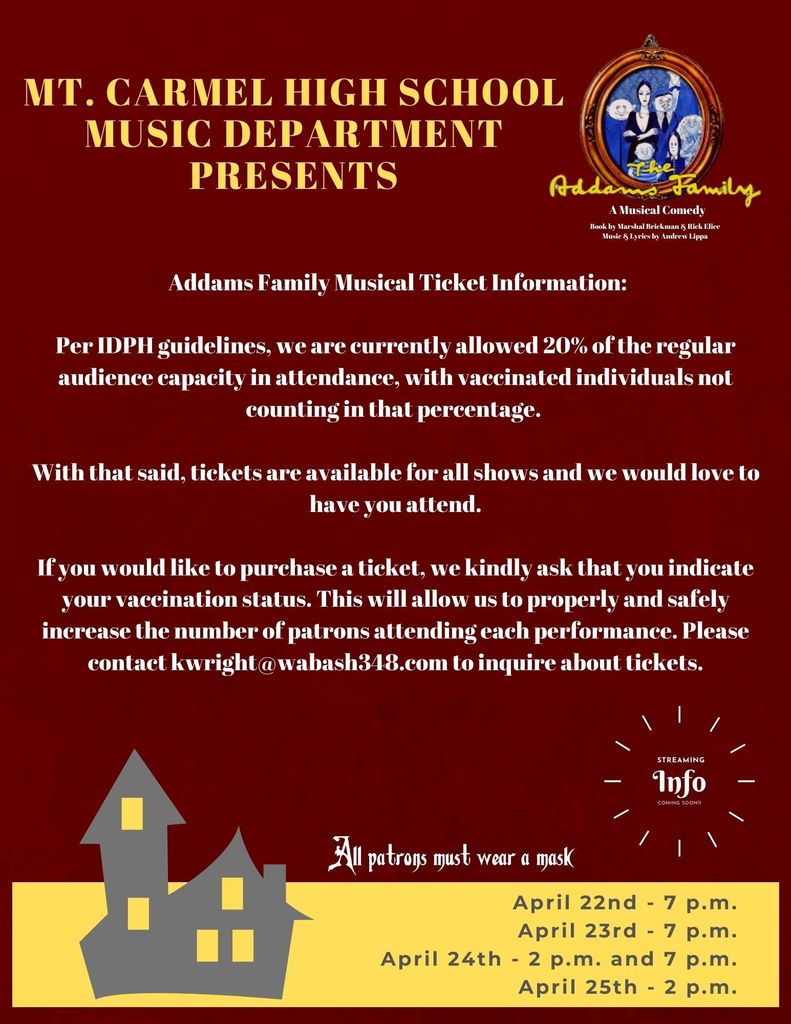 Class of 2021, Practice is scheduled for Monday, May 10, at 10:00 am, in Gym 1. Honors' Night is scheduled for Friday, May 14, at 7:00 pm, in Gym 1. Graduation is scheduled for Saturday, May 15, at 10:00 am, at Riverview Stadium. Rain time #1 is 7:00 pm, Saturday, May 15 Rain time #2 is 2:00 pm, Sunday, May 16 Again, Mandatory Honors' Night and Graduation practice is scheduled for Monday, May 10th, at 10:00 am. We will start in the gym and get a class picture, then a lot of information out at that time. This is also the time to pick up gowns and other materials from Jostens. From there, we will move downstairs to the concession stand area by the football field. It is our hope to have one (1) practice. This is entirely up to the class by showing up on time and staying focused for the time we need to get it done. We will not start until everyone is there, so if you have a classmate that you know may struggle to be on time, be his or her alarm clock/motivation/car ride/etc. As it has been for eons, you must attend the practice and Honors' NIght if you want to participate in the graduation ceremony on Saturday. You will also need to make sure all fees are paid prior to the Graduation ceremony if you plan to participate. Rachael is sending invoices out this week. As of right now, we are not setting a specific guest limit for Honors' Night as it is usually not heavily attended. We do ask each family to be considerate when inviting non-vaccinated guests to an indoor gathering. We do not want to get into a situation where we reach our capacity and have to turn people away. Graduation will not have a guest limit. Email Mr. Newkirk if you have any questions.
Gladys C. Fisher Trust Application For $1000.00 Tuition-Fee Scholarships (Limited to Seniors of Mt. Carmel High School for the field of Music)

The Wabash County Health Department has offered to do COVID-19 vaccines (Pfizer) on site for any student ages 16-18, with parental consent being required for those under the age of 18. If you are interested in your student getting the vaccine please email me at
skolb@wabash348.com
or call the office at 618-262-5104 to have your students name placed on the list of interest. I will get you further information regarding the date and consent forms when available. Also as a reminder the Health Department is conducting a clinic on Thursday, April 15 from 3:00 - 5:30 at Parkview. If you are interested in this time please call them at 618-263-3873. Thank you! Stephanie Kolb RN, BSN, PEL-CSN Certified School Nurse Wabash CUSD #348

Homecoming Week dress up themes!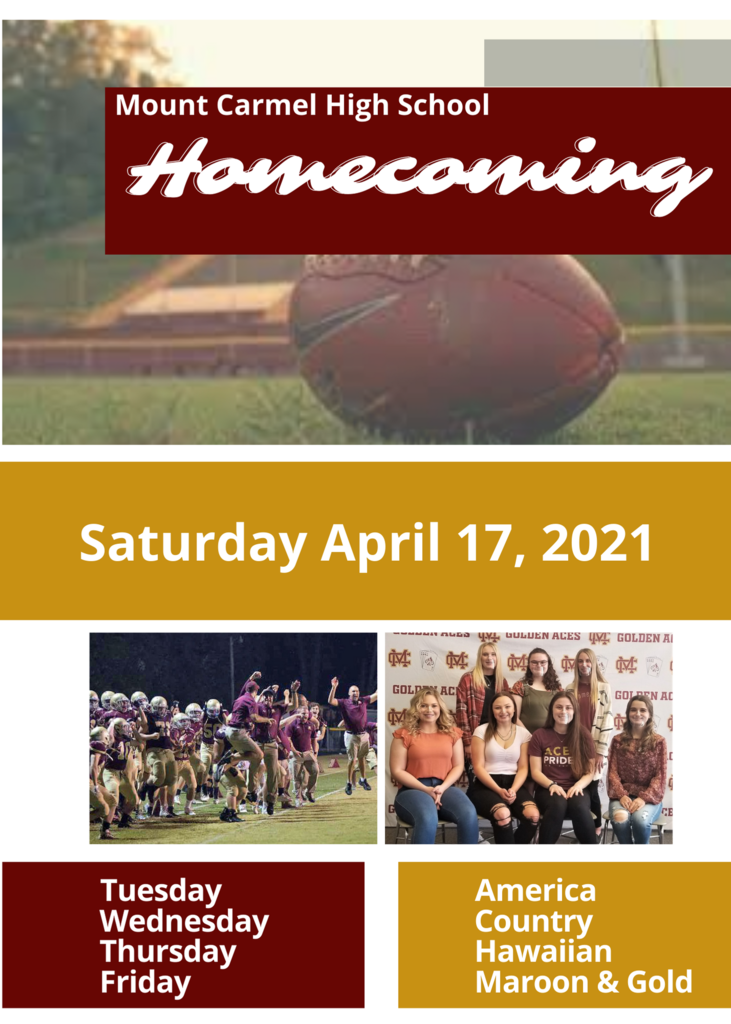 CHANGE IN TIMES/DATES OF HOMECOMING ACTIVITIES The MCHS Homecoming football game will now be on Saturday, April 17 at 2:30 p.m. The Homecoming parade will also be Saturday, April 17th at 11:00 a.m. The "FROSH" Dance will still be April 17th but time is now 8-10 p.m. at the Anderson Building. This dance is for Wabash 348 freshman and sophomores students only.

JV FOOTBALL SCHEDULE CHANGE // The Mt. Carmel JV Football Team has had the following schedule changes. - JV Football game vs West Frankfort on April 8th is CANCELLED. - JV Football game vs Flora on April 12th has been changed to a game vs Pinckneyville on April 12th at HOME starting at 6:30.

Pfizer Covid-19 vaccinations are being offered at Wabash County Health Department for ages 16-18. Parental consent (
https://5il.co/rac0
) is required for those under the age of 18. Contact WCHD @ 618-263-3873 for more information.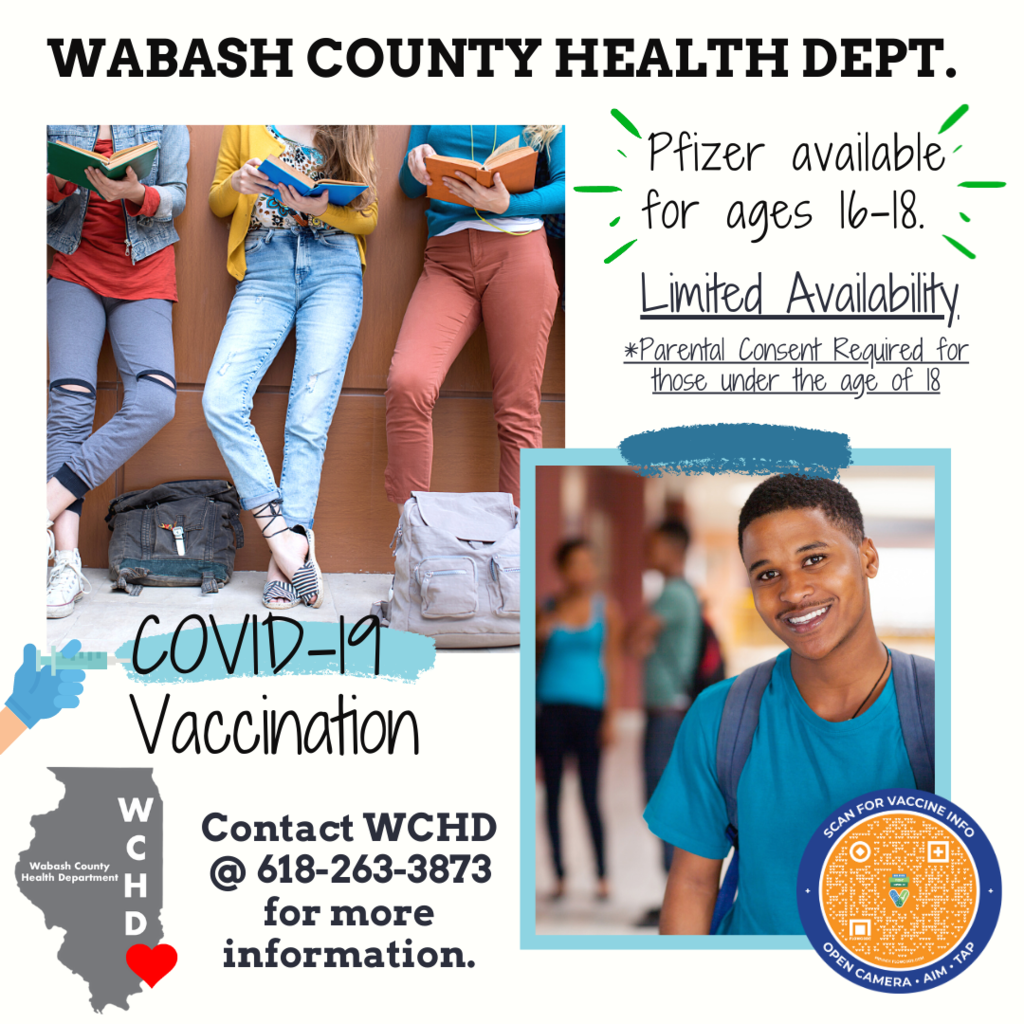 ALLIE MCPHERSON SIGNING NATIONAL LETTER OF INTENT // Allie McPherson, Senior at Mount Carmel High School, will sign a National Letter of Intent to play volleyball at Millikin University. Her signing will take place on Friday, April 9th at 6:00pm in the Gymnasium at Mount Carmel High School.

Football Spectators at Flora High School // Mt. Carmel High School is going to receive 150 tickets for the football game at Flora High School on Saturday, April 10th. These tickets will be given to football and cheerleader family members. However, in addition to the 150 tickets, anybody that has a COVID-19 Vaccination Card, may show that to the gate worker and use that as a ticket into the game. Kickoff for the game at Flora is 2:00.
Voting for Homecoming Queen will be this week. Student may vote on Classroom in their individual Grade Level.

HOMECOMING - There will be a homecoming parade on April 16 at 4:00 p.m. which will go uptown from the High School and will include the Fall Sports, Cheerleaders, and the Homecoming court. If any alumni wish to participate please contact Mike Mandrell immediately at:
mmandrell@wabash348.com
. The Homecoming Queen will be crowned at halftime of the Homecoming Football game against Breese Mater Dei at 7:00 p.m. A "FROSH" Dance will be held for Freshman and Sophomore that are enrolled at MCHS and will be from 7-9 p.m. on Saturday, April 17, 2021, at the top of the Stadium. This is only for current Mt. Carmel students in grades 9 and 10. The dance is casual and admission is free and water will be available.


Mt. Carmel High School Fresh/Soph Football Game Cancelled // Today's Fresh/Soph football game between Mt. Carmel and DuQuoin has been cancelled due to weather. We are currently looking for a possible make-up date.
IMPORTANT NEWS FOR CURRENT AND NEW NATIONAL HONOR SOCIETY MEMBERS! After the March 17th National Honor Society meeting, current members and Principal Mr. Newkirk decided to have an outdoor in-person National Honor Society initiation. This initiation will be at 12:30 p.m. on April 12th, 2021. It is set to take place at Merchants Park on Market Street. Please check your school email for important emails from National Honor Society President, Max Zimmerman. If you have any questions, please email him at
max.zimmerman@wabash348.com
. As of right now, family and friends are welcome to safely watch the initiation. Masks are required. National Honor Society current and new members are expected to arrive at Merchants Park at 11 a.m. to prepare for the initiation.

ATTENTION all interested in joining MCHS Track & Field: GIRLS - There will be a Lady Aces Track Meeting at the Snakepit at 3:30 p.m. on Wednesday, March 24th. All students interested in participating this school year will need to attend, unless you're involved in another sport at the moment. ~ Coach Doug Schwartz // BOYS - There will be a brief meeting in room 301 (Mr. Peach's room) for all boys who are not involved currently in a sport on Thursday, March 25th after school. ~Coach Darren Peach

Remote Learner Students: Remote students who still have not scheduled classes for next school year need to contact the guidance office today/tomorrow to set up a time.

Mt. Carmel High School Soccer Match POSTPONED Today's soccer match at home against Mt. Vernon has been POSTPONED due to weather. The game will be rescheduled for Wednesday, April 14th. The game will be played at the WVC Soccer Field with a 4:30 Varsity start and JV to follow.
The Ken Nunn Scholarship Education is an important tool that challenges students to become exceptional residents of our community. Additionally, it equips them with the skills and knowledge to create a brighter and stronger future. However, in many cases, students contemplate whether or not they will be able to attend college or return to college due to financial reasons. That's why our firm created the Ken Nunn scholarship. We hope that by offering this scholarship opportunity, it will alleviate some of the financial burdens countless students encounter when deciding to embark on their journey towards higher education. The scholarship will grant one student a $1,000 scholarship to be applied towards their tuition or other education-related expenses. Eligibility Requirements Students who have been accepted or currently attend a 2 or 4-year college or university in Indiana. GPA of at least 3.0. Employees of the Ken Nunn Law Office and their relatives are not eligible to participate. Submission Requirements Applicants must submit their application and essay via this form. Essay Topic As a poor kid from Jeffersonville, IN, Attorney Ken Nunn overcame countless adversities to build the Ken Nunn Law Office and a career dedicated to serving the people of Indiana. He knows that life isn't about the challenges you face; it's about how you rise above them. In a 500-750 word essay, tell us about a challenge you faced, how you overcame that challenge, and what you learned from it. Important Dates October 23rd, 2020 – We will begin accepting applications for the Ken Nunn Scholarship. April 30th, 2021 – Application deadline. Submissions after this date will not be accepted. May 17th-21st, 2021 – The chosen winner will be notified via email. May 24th – June 11th, 2021 – The check will be distributed directly to the winner. We will coordinate a time with you to pick up your award! **The winning applicant will be announced on The Ken Nunn Law Office's social media. By submitting an application, you agree to allow us to use your submission for marketing purposes. We look forward to receiving your scholarship application!