Graduation Order Taking Day for Seniors at Mt. Carmel High School will be Thurs Nov 17 in the library. There will be a Senior Class meeting Wed Nov 9 in the auditorium to discuss the order taking process. If you have any questions, please feel free to contact Mr. Kieffer
rkieffer@wabash348.com
Congratulations Class of 2023! Jostens met with the Senior Class last week to go over information to prepare for graduation and the celebration of their senior year. As we work through this school year and try to get back to normal as much as possible, one of the most exciting and important times for seniors and parents is preparing for commencement this Spring. We want to make sure this year's senior class has everything they need to celebrate and be honored for all their hard work and perseverance, especially these past few school years! IMPORTANT – Please look for our official graduation announcement and senior packet that all seniors were given during a senior meeting last week. The announcement was designed by representatives of the senior class and is an important part of the graduation order to send to family and friends regarding our commencement details regardless of their ability to attend the ceremony. It is very important for all orders to be placed on time for the custom graduation announcements and cap and gown. We want to make sure that all seniors have the correct items to celebrate their achievement of MCHS graduation. On Thursday, November 17, our partner Jessica Hageman with Jostens will be at MCHS to answer questions and collect graduation orders in person. There are many different options when placing your order – there are package options and individual ordering on the order forms. The BEST VALUE is the ACES Package – the items that the seniors want to celebrate, the custom announcements to announce the accomplishment, and the custom gear to wear to graduation… and the Cap, Gown, Tassel is FREE in the ACES PACKAGE. Seniors need to either bring in their order and down payment or place their order online at :
https://www.jostens.com/apps/jcom/router.mvc?type=K_12&code=GPO&product=GP_PKG_ANN&cn=1074549
If there are any questions, please contact:
jessica.hageman@jostens.com
Jessica Hageman Hageman & Associates, LLC JOSTENS Inc. 217-531-7832 CELEBRATING MOMENTS THAT MATTER Did you get this?Thank you for the information!Congratulations!

Veterans Day display 2022 MCHS thanks Jayden Pettyjohn for your help!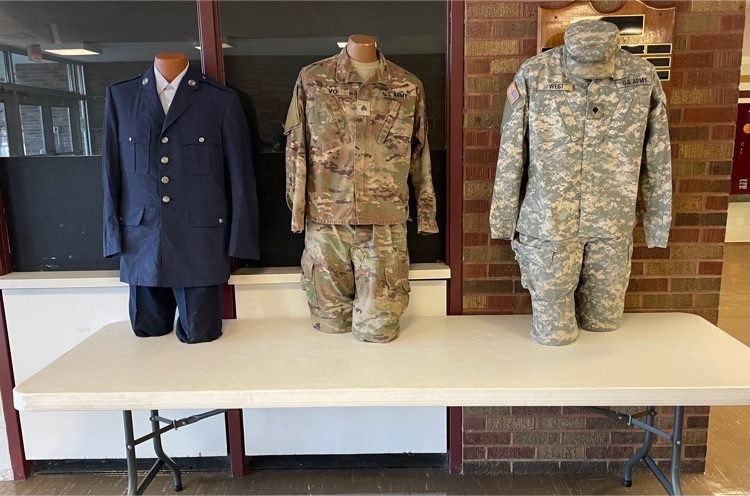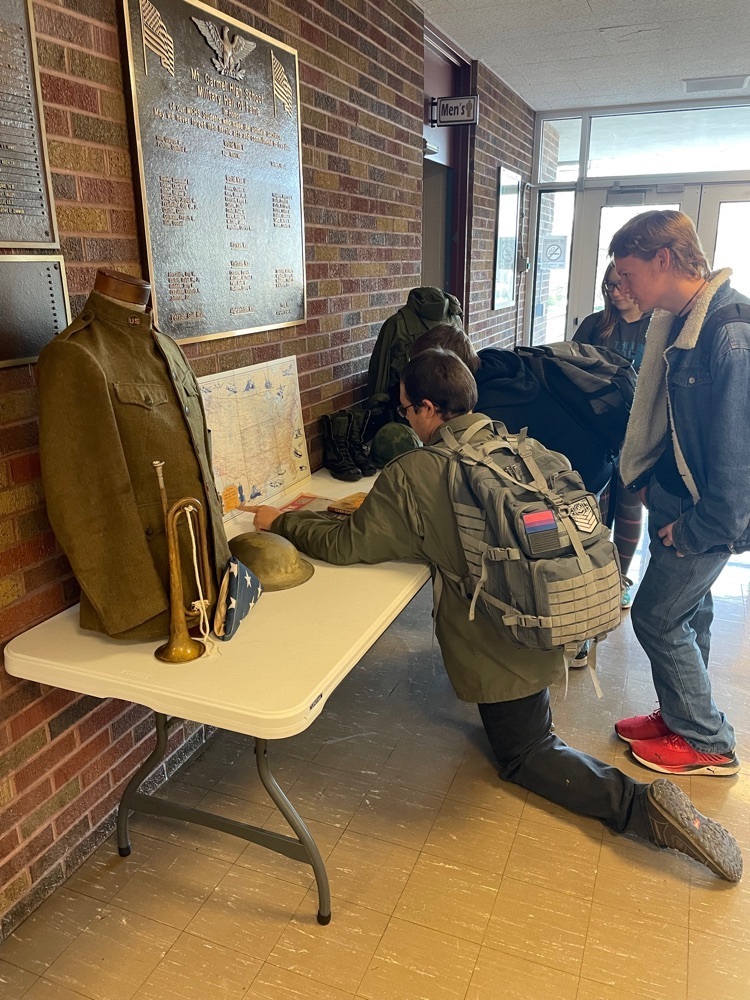 REMINDER - School will not be in session tomorrow, November 8, 2022 for the Election Day Holiday.

ONLINE TICKET SALES ARE NOW OPEN for the 2022 MCHS Music Department Christmas Madrigal Presentation - WHITE ELEPHANT CHRISTMAS. Last year, the Duke completely missed it on the King's Christmas gift. To show his displeasure, the King gave the Duke a white elephant, which is ruining him financially. This year, the Duke searches for the perfect Christmas gift, so the King will be happy and take back the elephant. Appropriately, Town Crier suggests a white elephant exchange. Will the Duke find that perfect gift? Get your Madrigal ticket to find out and enjoy a magical evening of food, laughter and entertainment. Link to order tickets >>
https://app.arts-people.com/index.php?ticketing=mchsm
.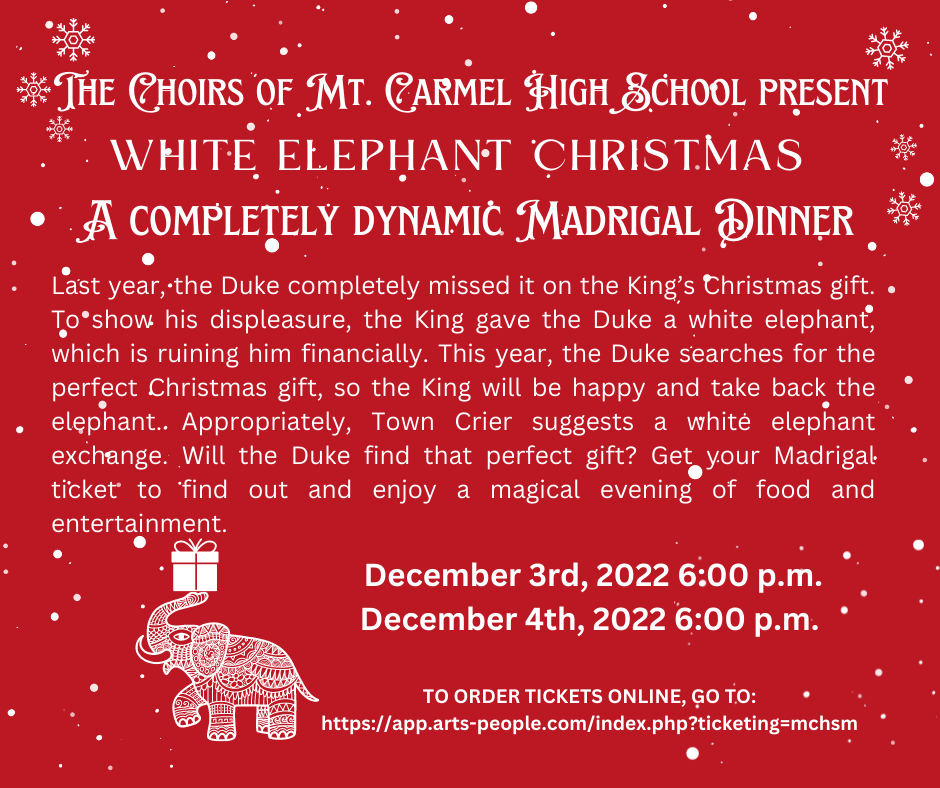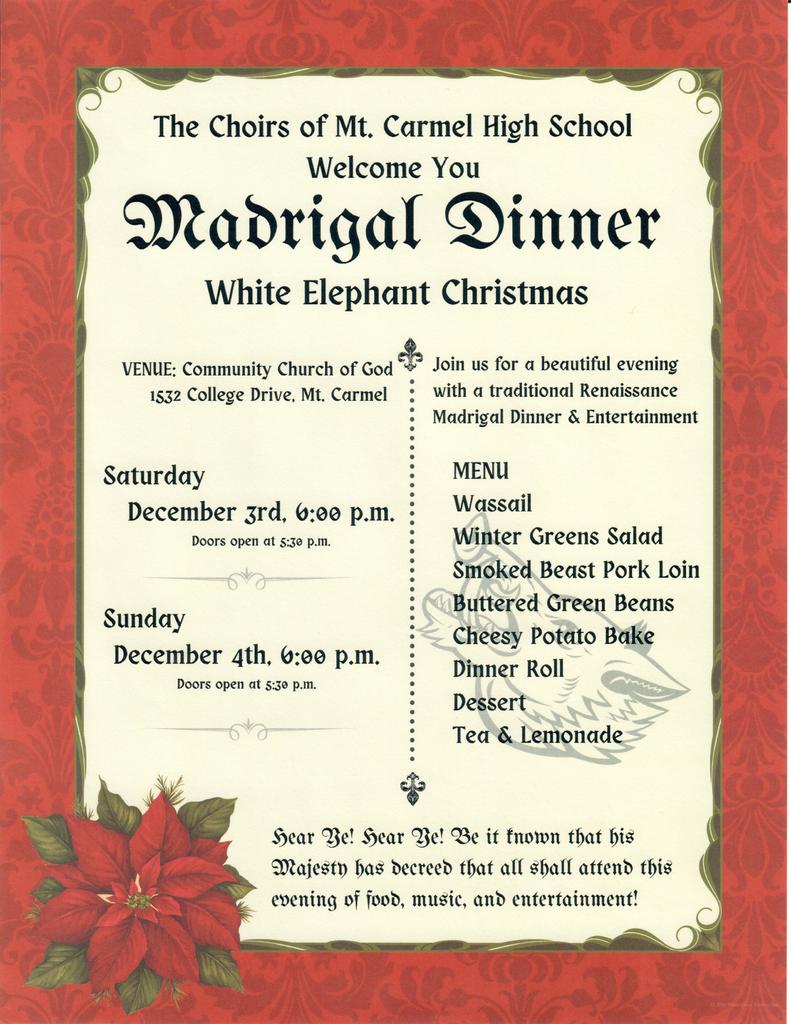 Graduation Order Taking Day for Seniors at Mt. Carmel High School will be Thursday, November 17th in the library. There will be a Senior Class meeting on Wednesday, November 9th in the auditorium to discuss the order taking process. If you have any questions, please feel free to contact Mr. Kieffer at
rkieffer@wabash348.com
.
Seniors: The Save Abandoned Babies Foundation is offering five $1,000 Scholarships to High School Seniors in Illinois. The award winners will receive a $1,000 scholarship to their college or trade school of choice. The student must be eligible for high school graduation or pass the G.E.D. in 2023 and attend school in the fall of 2023. To qualify for this scholarship, please submit a 30-60 second Tik Tok video that demonstrates a creative, factual, educational message about The Abandoned Newborn Infant Protection Act. To learn about the law, go to
www.SaveAbandonedBabies.org
. Information is also available in the Guidance office. The deadline is March 1, 2023.

The Mt. Carmel High School Lady Aces Volleyball team will play in the Regional Championship at HOME on Thursday, October 27th against Hamilton County. The match will start at 6:00pm. Tickets are $5 and will be sold at the gate. Come out on Thursday and support your Lady Aces!

Today junior and senior students attended the MCHS college/career day with 12 colleges, 10 local businesses, and military branches attending. Students had a period to explore the different post high school options to assist them with their future plans.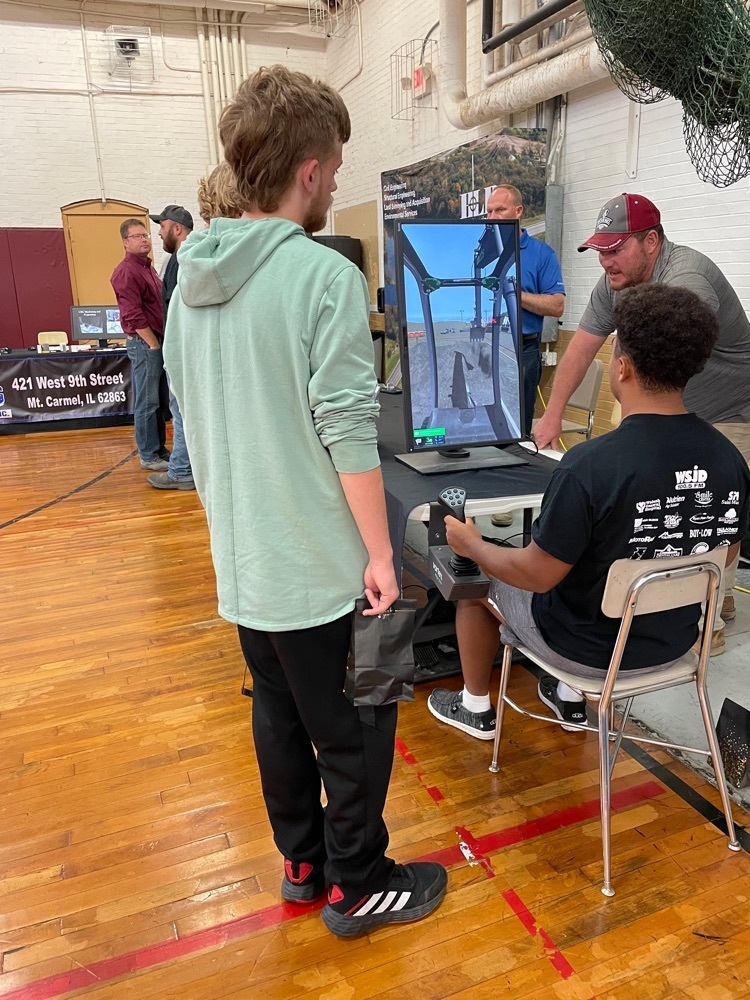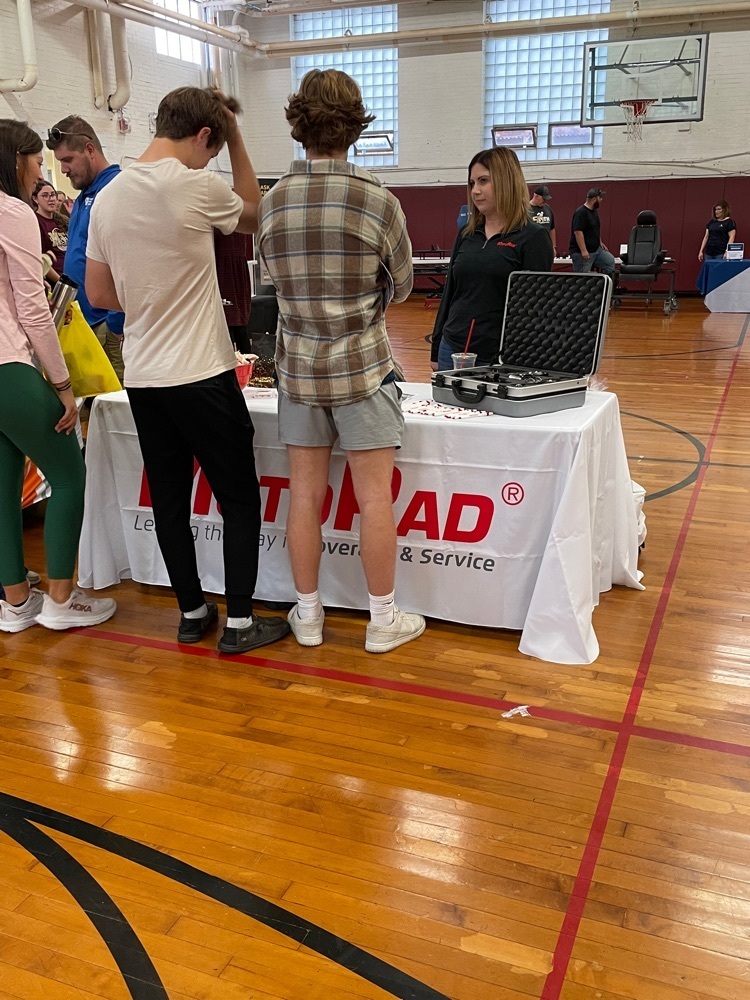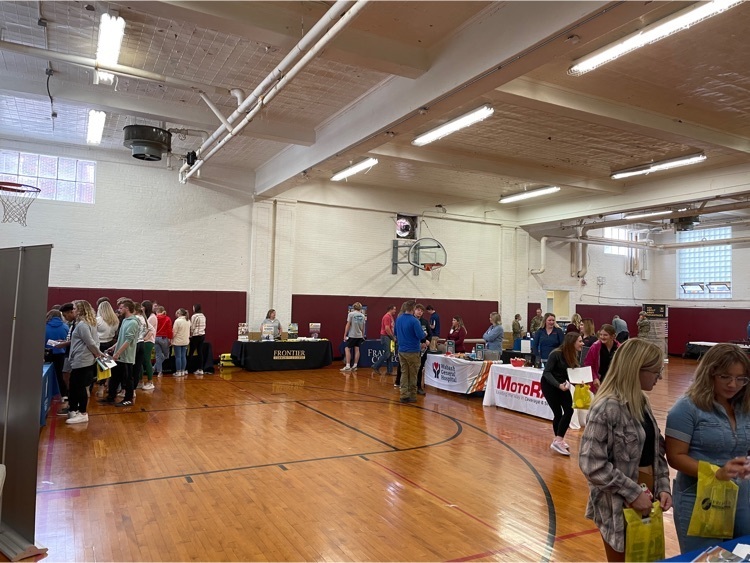 MCHS winners of the Creative Contest for Wabash 348 Students during Digital Citizenship Week!

Creative Contest for Wabash 348 Students for Digital Citizenship Week!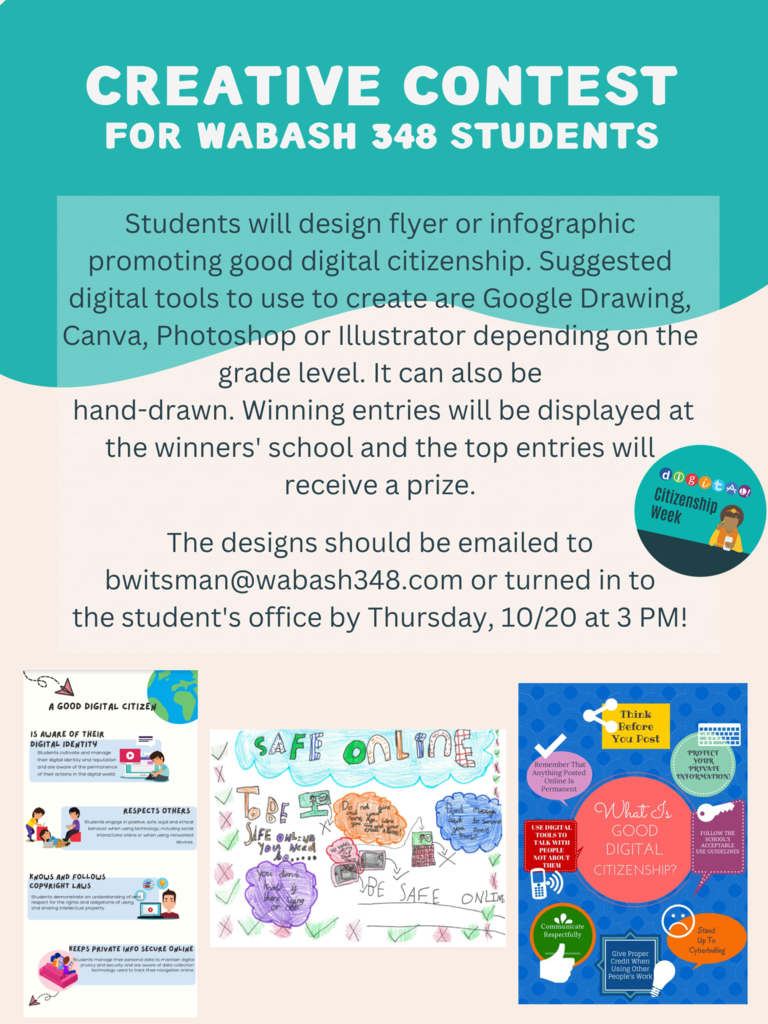 Just a reminder about Parent Art Night in the art room during parent teacher conferences this week (Tuesday & Thursday evening, 5-8) Art activities will be available for you and your student to participate and if they are in art-they can even be your teacher 😊we would LOVE to see you there, all are welcome! If you have questions feel free to email
rdrone@wabash348.com
or message us on Facebook: mchs visual arts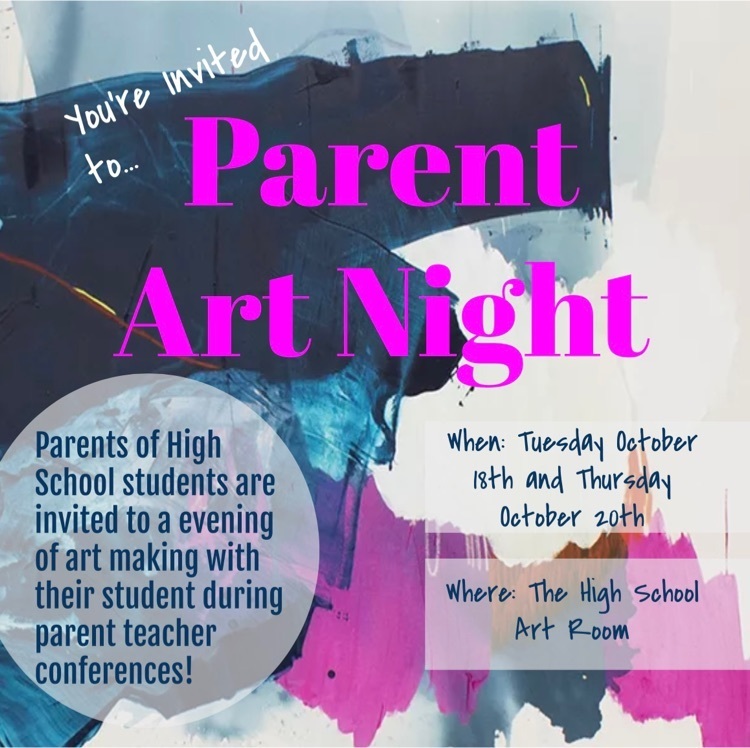 Today's Pep Assembly Schedule for Girl's Golf Back To Back State Champs!
Congratulations to our first Student Spotlight of the semester, Tenley Davis! Keep it up girl!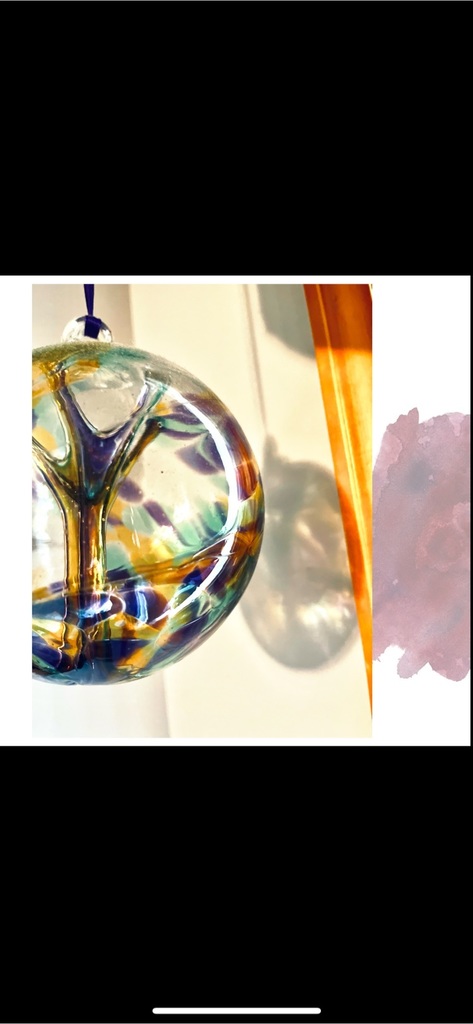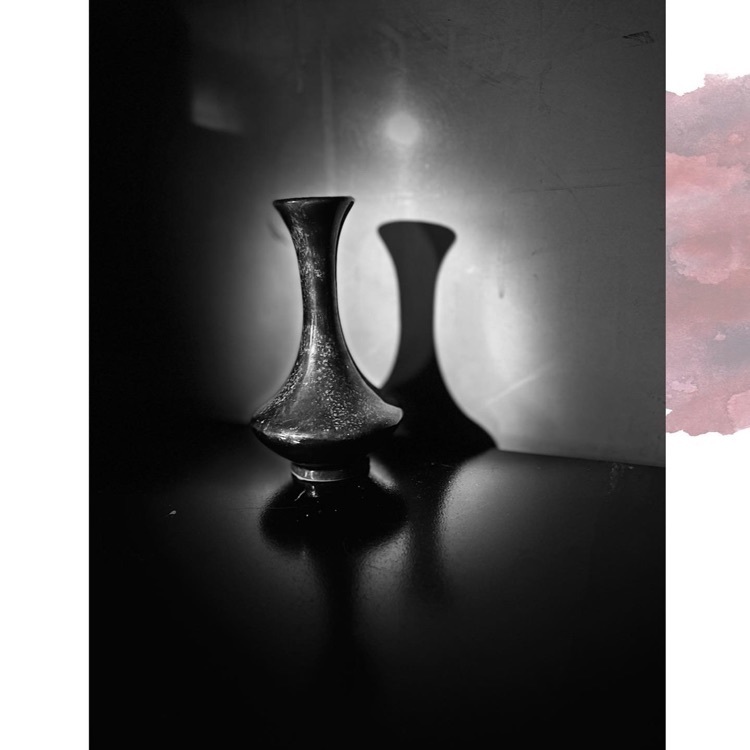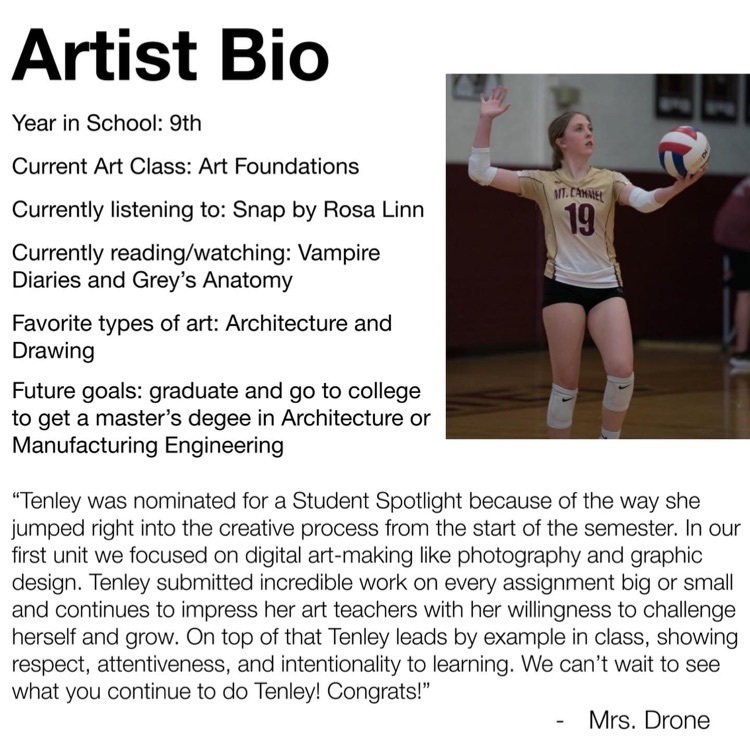 School Device Coverage has extended their open enrollment period until November 1st to register for Chromebook insurance for your child. Again, it is $29 and covers accidental damage, liquid submersion, fire, flood, and even loss/theft. To register for insurance, go to schooldevicecoverage.com with your child's Chromebook information. If you have any questions, please call the school office.

MCHS along with WVC will host a FAFSA Night at MCHS on 10/26 from 5:30-7:00 in the cafeteria to assist families in filling out the FAFSA for Senior graduation/College admissions. If wanting a spot reserved or more information please contact the MCHS guidance office.

Picture Retake Day is coming up next Wednesday, October 19th. These pictures are for those that need to get pictures taken for the first time or for students who need to get them retaken due to a problem with picture quality. If students need to get them retaken, they need to return the old picture that day. Again, it is very important that every student has a picture taken for Skyward and also for the yearbook. For seniors, we also send these pictures off to local newspapers who request them. Here is the link to order pictures if you haven't already ordered them this year.
http://alymaeimages.hhimagehost.com/RetakeMCHSMCJHS

The 2022 yearbooks are in! Distribution will be Wednesday (10/12) & Friday (10/14) during 7th period and after school until 3:30 in the cafeteria. Students will be called down by class and last name. Non-students and anyone who misses their call down and may stop by after school. After Friday, the remaining yearbooks will be available for pickup in the office. Contact Nathan Wheatley,
nwheatley@wabash348.com
with any questions.