MCJHS SLC is sponsoring a Canned Food Drive to benefit WADI. The grade level that brings in the most cans will win a donut party! Students can bring cans in until Thursday of this week.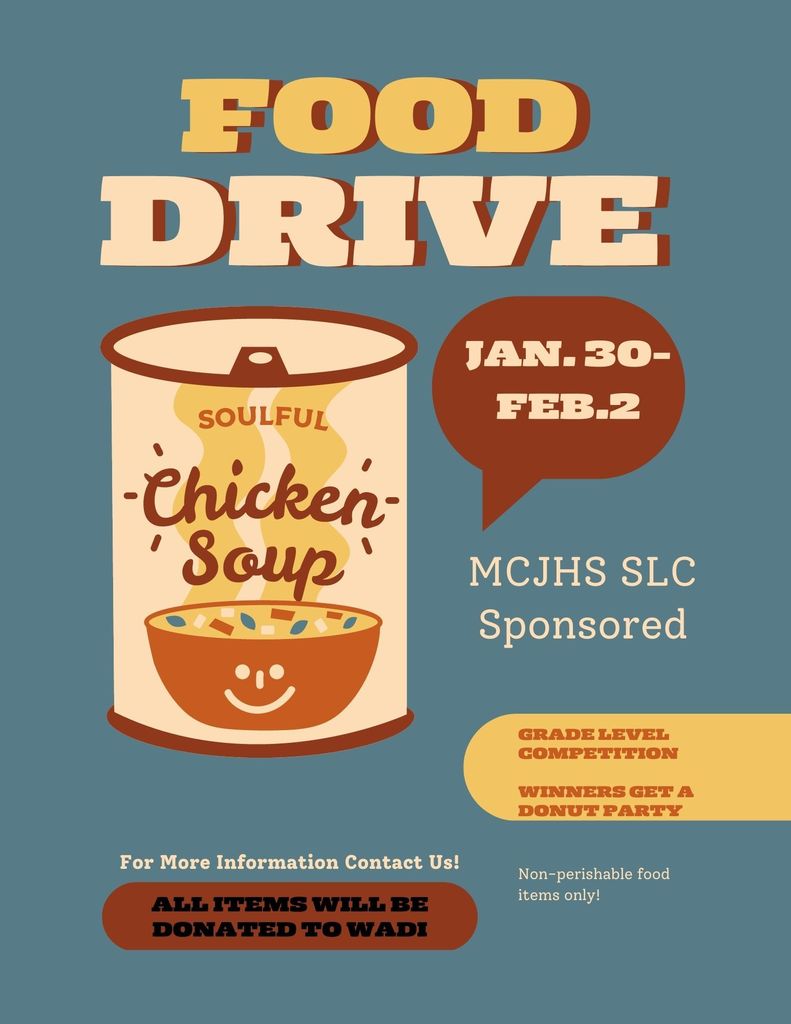 For our upcoming Valentine's Day on February 14th, we realize that some parents want to give their child a Valentine gift. While we encourage you to give your gift outside of school hours, MCJSH will provide an opportunity for students to receive deliveries for Valentine's Day at school. All items delivered or dropped off will be picked up by your student at dismissal as they leave the building. We ask that if you plan to personally drop off an item, please have it here at the building by 2:00 and labeled with your child's name, grade level, and last period teacher.

Congratulations to our Girls Basketball team for winning the Regional Championship this weekend! They will advance to the SIJHSAA State Tournament at Rend Lake College on Saturday, January 21st where they will take on Wolf Branch at 12:00pm. Go Jr Lady Aces!

Congratulations to the following Junior High girls who have made the Junior High Volleyball team! 6th Grade - Opal Earnest Macy Glenn Jersey Mounts Annie Kanipe Josie James Peyton King Farryn King Hayleigh Prosise Peyton Simpson Addi White Hannah Lewis Erin Delong. 7th Grade - Zoie Randall Alivia Peach Quincy Keepes Journey Loudermilk Avery Coston Ella Turner Stella Woodcock Gracee Haggard Bayley Andrews Addison Mobley Ryleigh Gill Chloe Toutloff. 8th Grade - Kyleigh Smith Lyla Keepes Mercedes Dillard Evie Sellers Kinley Harris Riley Hershey Leah Lewis Madi Riggs Mylee Farmer Brynlie Mounts Sophie Banks Leila Sweeney

Junior High Volleyball Tryouts will be TODAY at Mt. Carmel Grade School from 3:20-5:20. All 6th, 7th and 8th grade girls wanting to try out for volleyball need to be there. The second day of tryouts will be on Saturday, December 17th from 10:00am-12:00pm at Mt. Carmel Grade School. Everybody needs to attend BOTH days of tryouts. Each grade needs to wear a color coordinating shirt: 6th grade-white or grey. 7th grade-maroon. 8th grade-black.

Great news!!! Our school just received two new bottle fillers as a part of the H2O on the Go grant from the Delta Dental Foundation of Illinois and Illinois Children's Healthcare Foundation. The purpose of the grant is to prevent tooth decay, which is the leading chronic disease among children. The water bottle-filling stations encourage consumption, helping lessen tooth decay, aiding in reducing obesity, increasing energy levels and improving students' attention span and ability to learn. As a part of the grant, each student had the opportunity to get a Green Reusable Bottle and a toothbrush. As you can see from one of the photos, one student took the opportunity to use the new toothbrush. It was great to see how many students were using the water bottle and one student simply said, "The bottle and the bottle filler makes drinking water so convenient."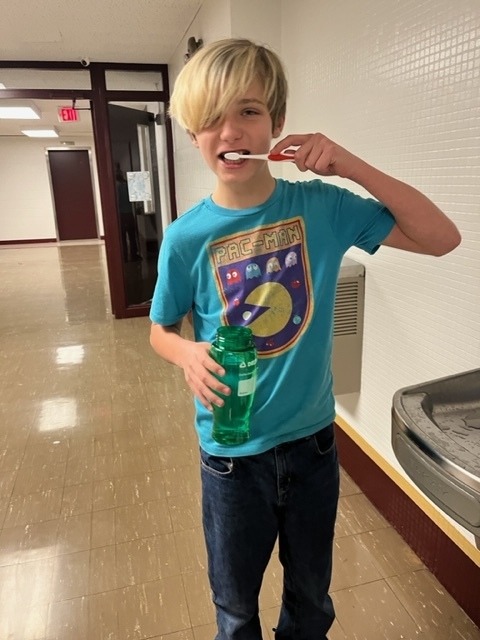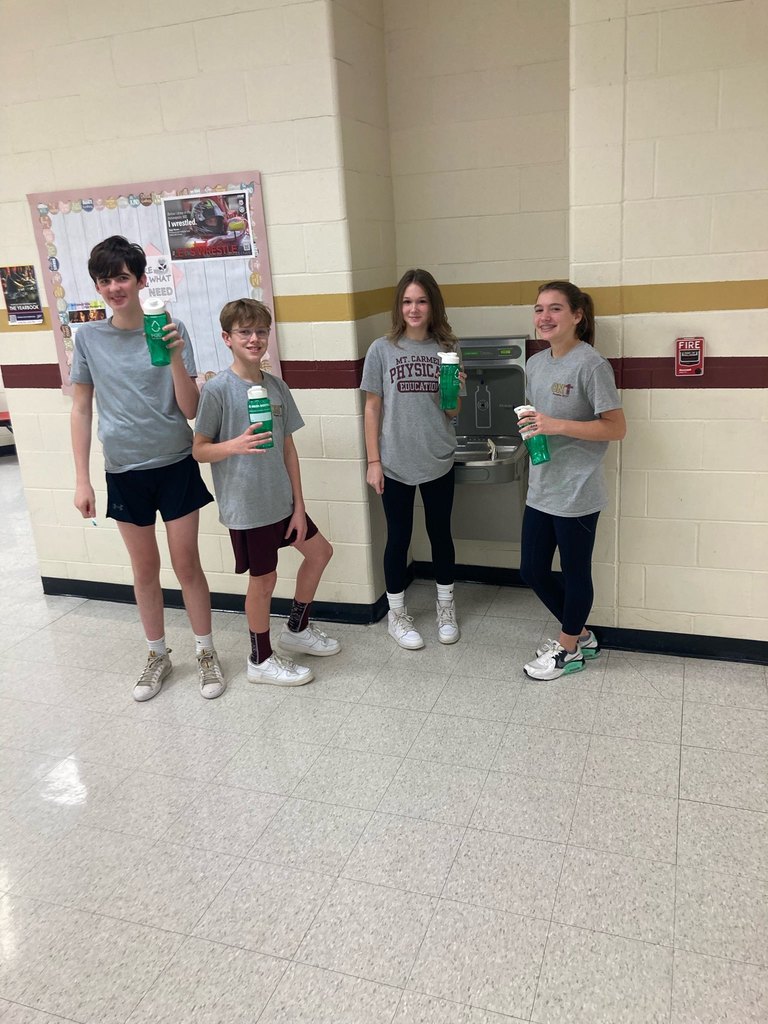 The Mt. Carmel Junior High Boys Basketball game scheduled for tonight at home against North Posey has been CANCELLED due to too many players sick and not in school today. This game will not be rescheduled.

The 7th grade boys basketball team will host a 7th grade tournament at Mt. Carmel Grade School on Saturday, December 3rd. Mt. Carmel will play Grayville at 9:00am. Albion will play Owensville at 10:30am. 3rd place game at 12:30pm. Championship game at 2:00pm.

Tonight's Junior High girls basketball game against Vincennes Rivet will begin with the 8th grade game starting at 5:30. Then due to low numbers, there will be 2 quarters of a 7th grade game to follow.

The Mt. Carmel Junior High Boys Basketball game scheduled for tonight against Parkview Junior High School has been Postponed. The game will be rescheduled for Wednesday, December 21st. The game will be played at Mt. Carmel Grade School with the 7th grade game starting at 6:00pm and the 8th grade game to follow.

REMINDER - School will not be in session tomorrow, November 8, 2022 for the Election Day Holiday.

The Mt. Carmel Junior High girls basketball game scheduled for Monday, November 7th at New Hope has been Postponed. We are looking at possible dates to reschedule this contest.

We have a new updated schedule for the Richland County Boys Basketball Tournament this Saturday, November 5th. We will now play Olney at 9:00am and Lawrenceville at 10:30am. Hopefully all families wanting to travel to the high school playoff football game will have time to make it to Tolono by 2:00pm!

MCJHS winner of the Creative Contest for Wabash 348 Students during Digital Citizenship Week!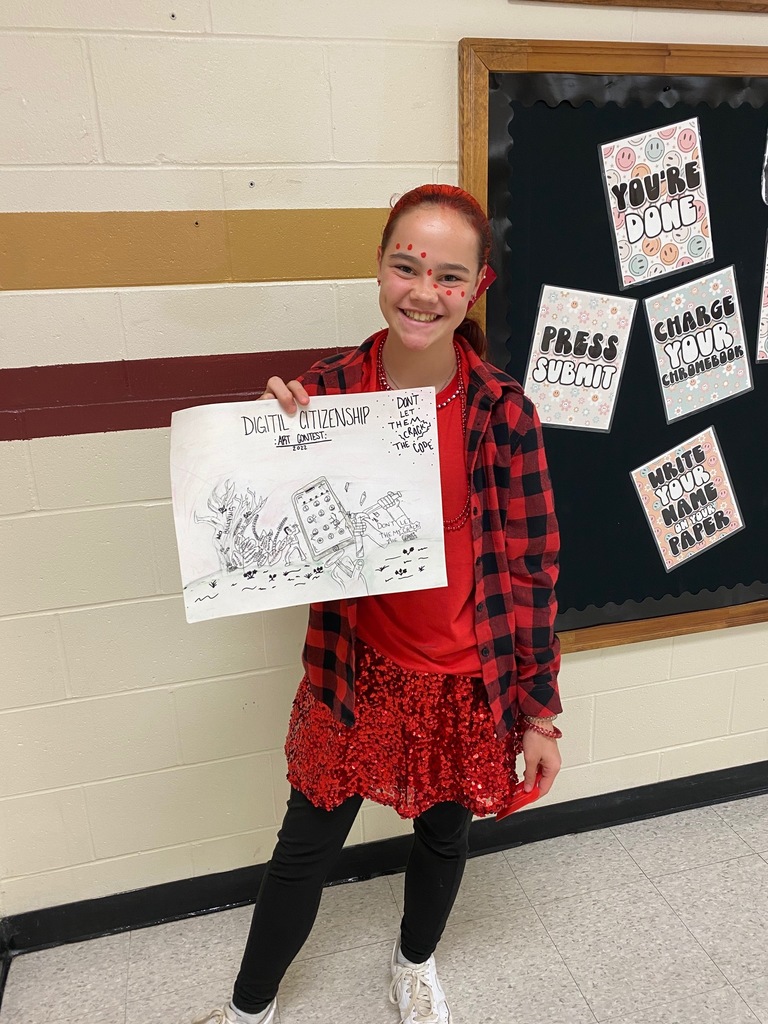 Creative Contest for Wabash 348 Students for Digital Citizenship Week!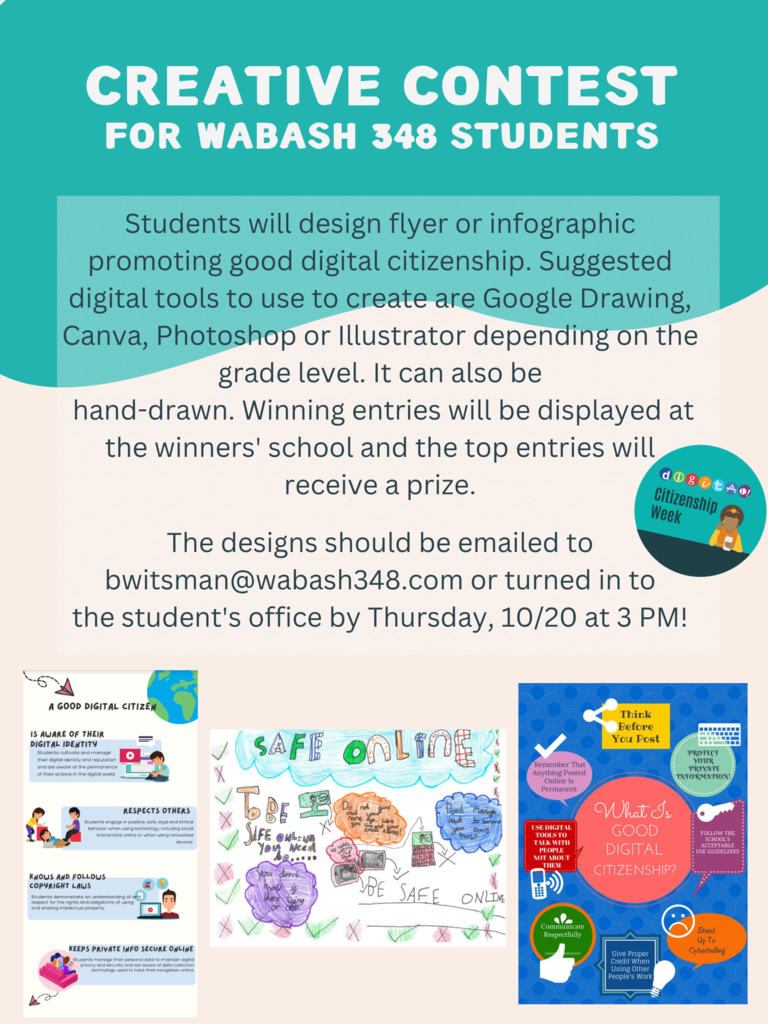 School Device Coverage has extended their open enrollment period until November 1st to register for Chromebook insurance for your child. Again, it is $29 and covers accidental damage, liquid submersion, fire, flood, and even loss/theft. To register for insurance, go to schooldevicecoverage.com with your child's Chromebook information. If you have any questions, please call the school office.

Picture Retake Day is coming up next Wednesday, October 19th. These pictures are for those that need to get pictures taken for the first time or for students who need to get them retaken due to a problem with picture quality. If students need to get them retaken, they need to return the old picture that day. Again, it is very important that every student has a picture taken for Skyward and also for the yearbook. Here is the link to order pictures if you haven't already ordered them this year.
http://alymaeimages.hhimagehost.com/RetakeMCHSMCJHS

After school tutoring will be available for Jr. High students starting on October 19, 2022! More information about this program will be sent home with your child today.

JH open gym has been changed to 3:20-4:00 today at MCGS. Thanks

Reminder! All students who wish to apply for the MCJHS Principal's Excellence Award will need to have their Participant Registration Information form signed and turned into Mrs. Morris by 3:00pm on October 7, 2022.