WABASH 348 REMOTE LEARNERS: If you registered your student as a remote learner, you will need to pick up remote learning materials (including a chromebook, if needed) on Monday, August 17th. Remote learning will begin on August 18th. Items can be picked up during office hours at the school in which your student is enrolled. If you have questions, please call the appropriate school office: MCES: 618-263-3876 MCJHS/MCHS: 618-262-5104 MCGS: 618-262-5699

There has been some questions about health records and remote learning. If you have chosen to remote learn then you are still required to turn in the mandated health records prior to registering your child for school. If you have any questions please feel free to contact me. Thank you!

The District has posted the 2020-21 school year reopening plan on the website. All plans are designed with the principles of safety, to stay open, and effective education. Please take time to review the plan. Currently, the building principals are developing their reopening plans. On a daily basis, various conditions will have an impact on our plans. Therefore, I strongly encourage you to check our website for new developments. One immediate change is the separation of Groups A and B. After an analysis of our students, we found a better separation of the groups would be students with the last name beginning with A-J will now be Group A, and students with the last name beginning with K-Z will now be Group B. Adjustments like this are possible as we get closer to the return of students. Stay safe and Go Aces!


WABASH CUSD #348 ONLINE REGISTRATION OPENS ON JULY 23, 2020 The school offices will be open Monday, July 27th at 8:00 a.m. We understand that not everyone has access to the internet and a computer. We will be opening the schools for online registration computer access at the following locations and times: Mt. Carmel Elementary School: Tuesday, July 28th: 8:30 a.m. – 1:45 p.m. Mt. Carmel Junior/Senior High School: Wednesday, July 29th: 8:30 – 1:45 p.m. Mt. Carmel Grade School: Thursday, July 30th: 8:30 – 1:45 p.m. You must call ahead to schedule your appointment. Because of COVID-19, there are specific guidelines that you must follow: 1) Temperature check will be administered 2) Mask must be worn 3) Prefer no children accompany the parent, but if they do, then please make sure that they stay with you. Please note you may register your children at any of the locations, they do not have to attend that school building. If you have questions, please call the school office when it opens on July 27th. MCES: 618-263-3876 MCJHS/MCHS: 618-262-5104 MCGS: 618-262-5699

Reminder: I will be collecting health records for any student in the required grade levels of Kindergarten, 6th, 9th and 12th. The collection days are as follows: Wednesday, July 22, 2020 from 8AM - 4PM @ MCHS Wednesday, July 29, 202 from 8AM - 12PM @ MCES Wednesday, July 29, 2020 from 1PM - 4PM @ MCGS Health records must be turned in before registration portal will be unlocked. Thank you!

PANDEMIC EBT (P-EBT) SNAP BENEFITS INFORMATION

INTERESTED IN BECOMING A SCHOOL BUS DRIVER?CLASSES COMING UP!! Contact Sharon Thombleson at Wabash #348 Bus Garage, 618-262-8539 or 618-263-8820 if interested.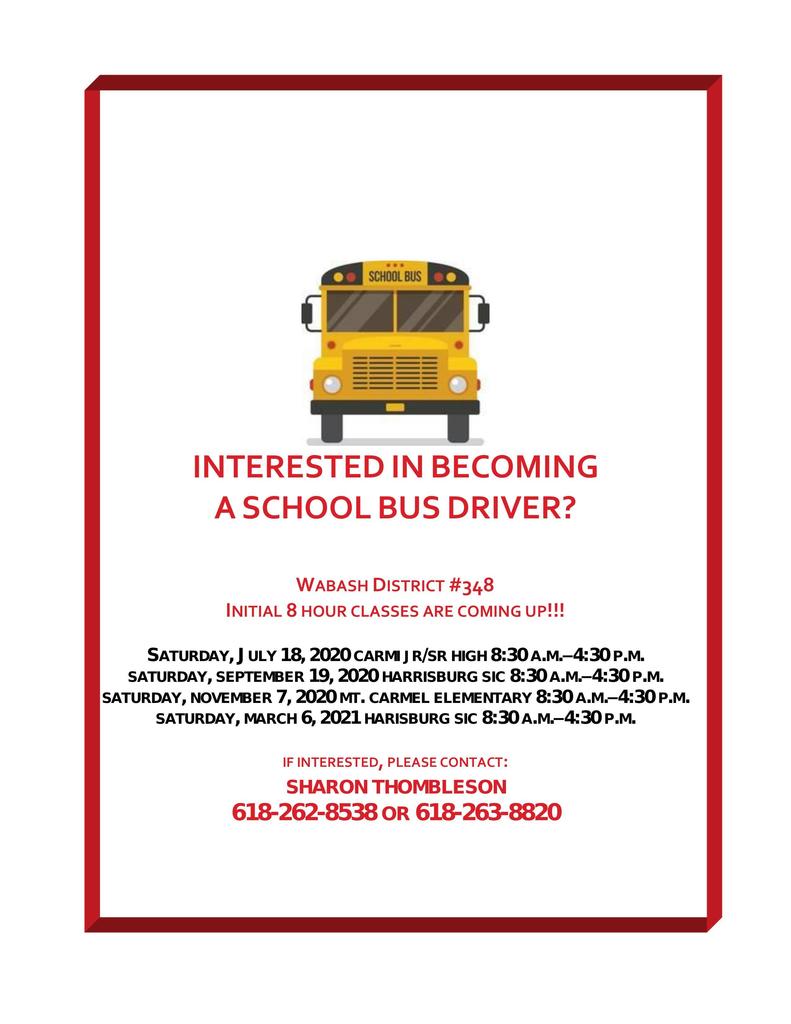 ISBE - IDPH Update on Appropriate Use of Face Shields. June 30, 2020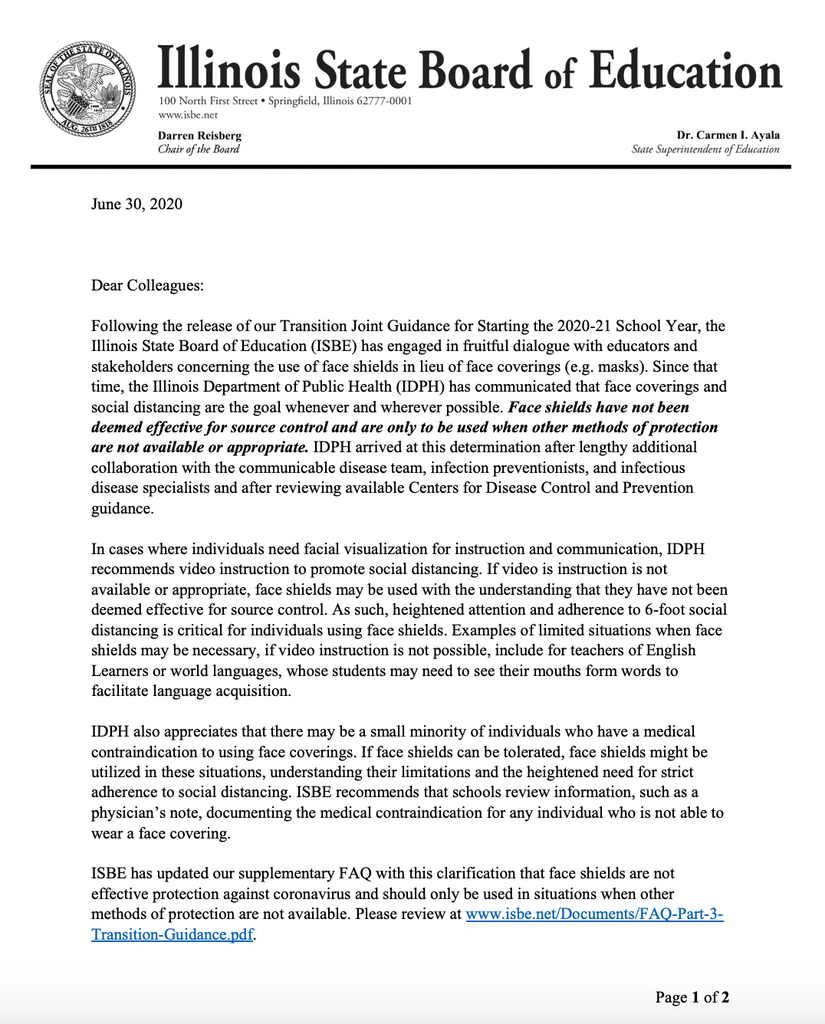 DISTRICT UPDATE: Due to the state guidelines for returning to in-person instruction, wearing a face mask or a face shield will be mandatory to attend school in Phase 4. The district has ordered enough cloth face masks to distribute one per student. However, it is recommended that students have extra face masks for the upcoming school year. Personal face masks worn by a student will need to comply with school dress codes. The district is currently preparing accommodations that will make in-person instruction possible for this upcoming school year. This school year will certainly be different than any previous school year. As this summer continues, we will continue to communicate new developments and procedures.

A MESSAGE FROM WCUSD #348 SUPERINTENDENT, DR. BLEYER: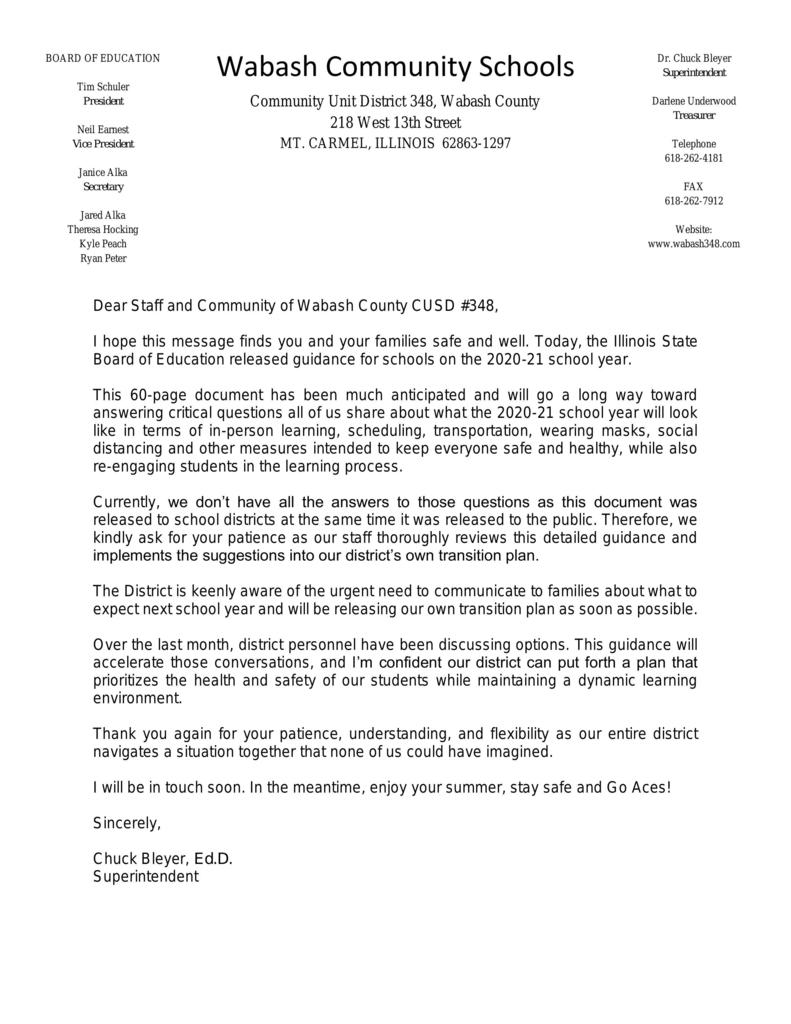 Good news, bad news... The video for the Class of 2020 Awards can be accessed here:
https://www.youtube.com/watch?v=vEfsHOLQbcQ
. Bad news is after we did some editing with adding pictures and names to this video, we realized we would not be doing the Jr High justice by not doing the same. It took longer than we thought, so unfortunately, the Jr.High video likely won't be available until Monday.

A MEMO FROM THE ATHLETIC DIRECTOR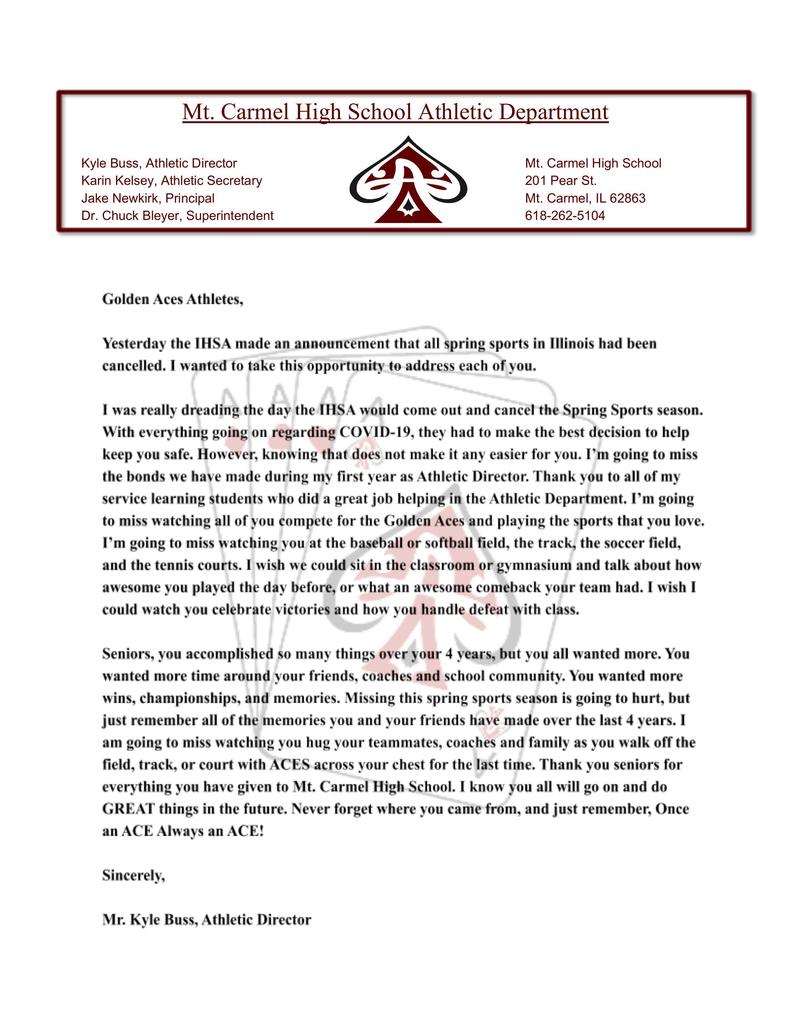 District Statement Regarding Ending of School Year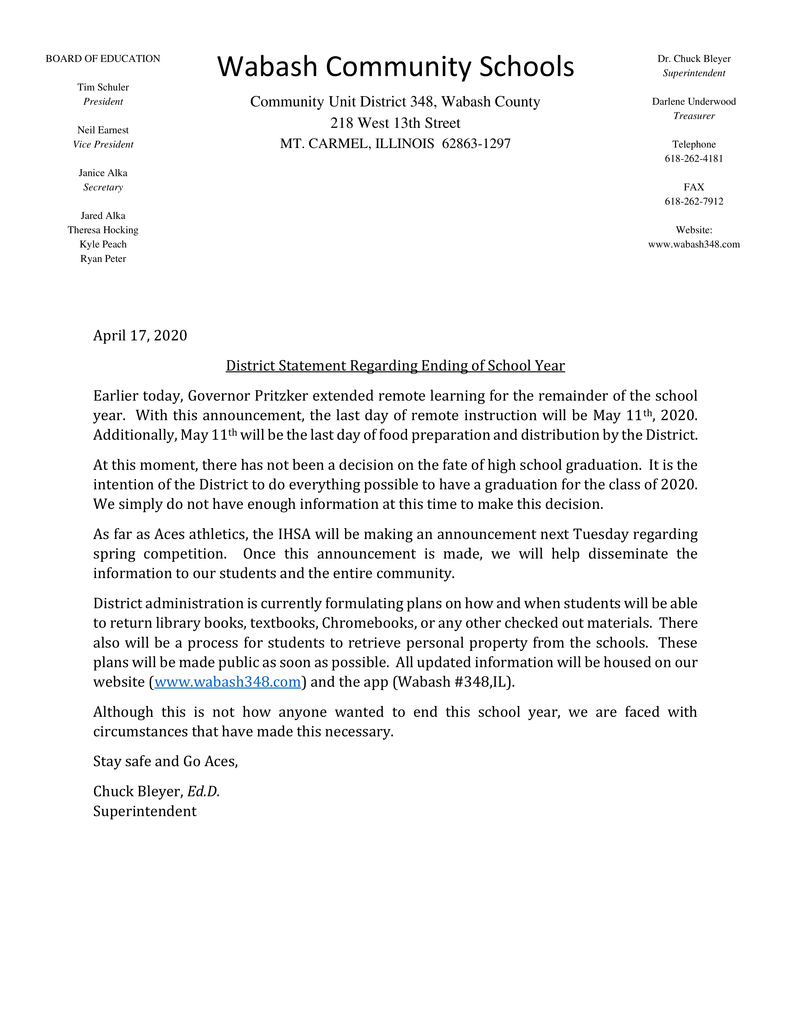 Congratulations to Mr. Michael Gordon, English Teacher at MCHS!! Mr. Gordon was the recipient of a Claes Nobel Education of Distinction Award by The National Society of High School Scholars (NSHSS). He is recognized among educators for outstanding efforts in supporting and growing both the academic and personal successes of students to make a positive impact in the global community. We are so proud and grateful to have his talents in our school district.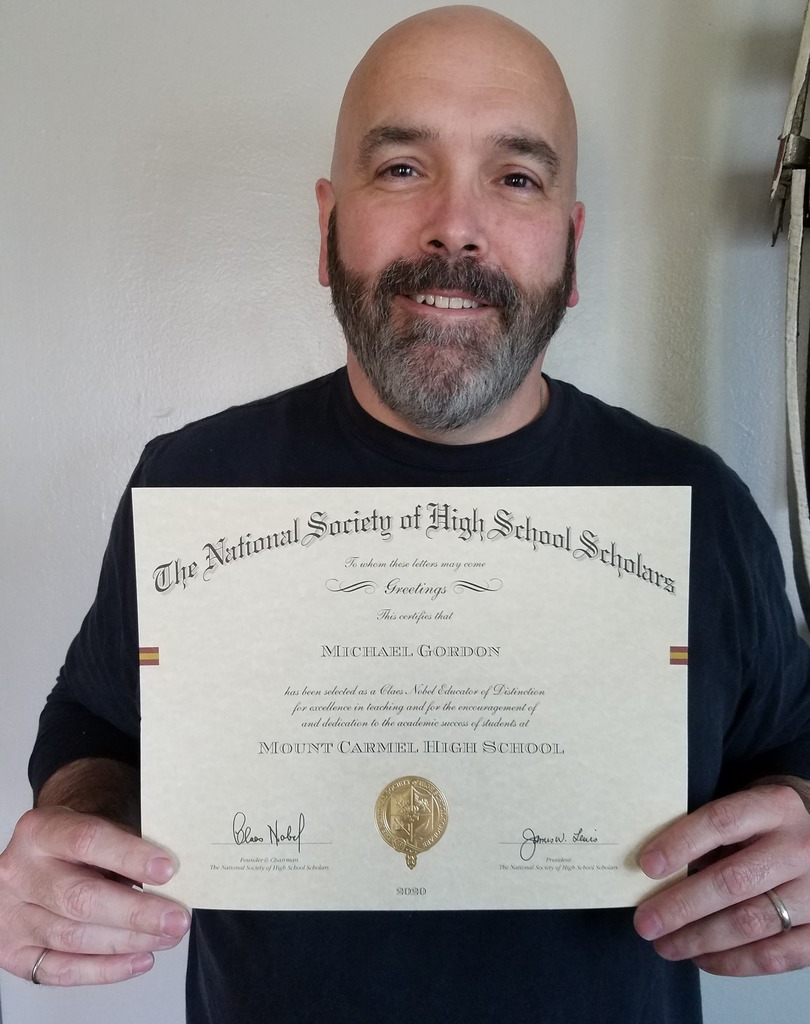 We at District 348 are aware of the outage of some internet in the county. It is our understanding that it will be on later today. Therefore, if you are unable to continue remote learning, it is fully understood and accommodations will be made for any assignments.

TIME CHANGE. Starting tomorrow, Monday, April 6, 2020, District #348 Grab and Go lunch pickup will change to 11:00 a.m. - 12:30 p.m. at the same school building locations. The offsite mobile locations times will remain the same.

Starting tomorrow, Thursday, April 2, 2020 District #348 will distribute Grab and Go lunches at three additional locations: Bellmont-Bellmont Park 11:15 am-12:00 pm Keensburg-By the Christian Church 12:15 pm-1:00 pm Lambert Drive-Old Save-a-Lot parking lot 11:00 pm-12:00 pm