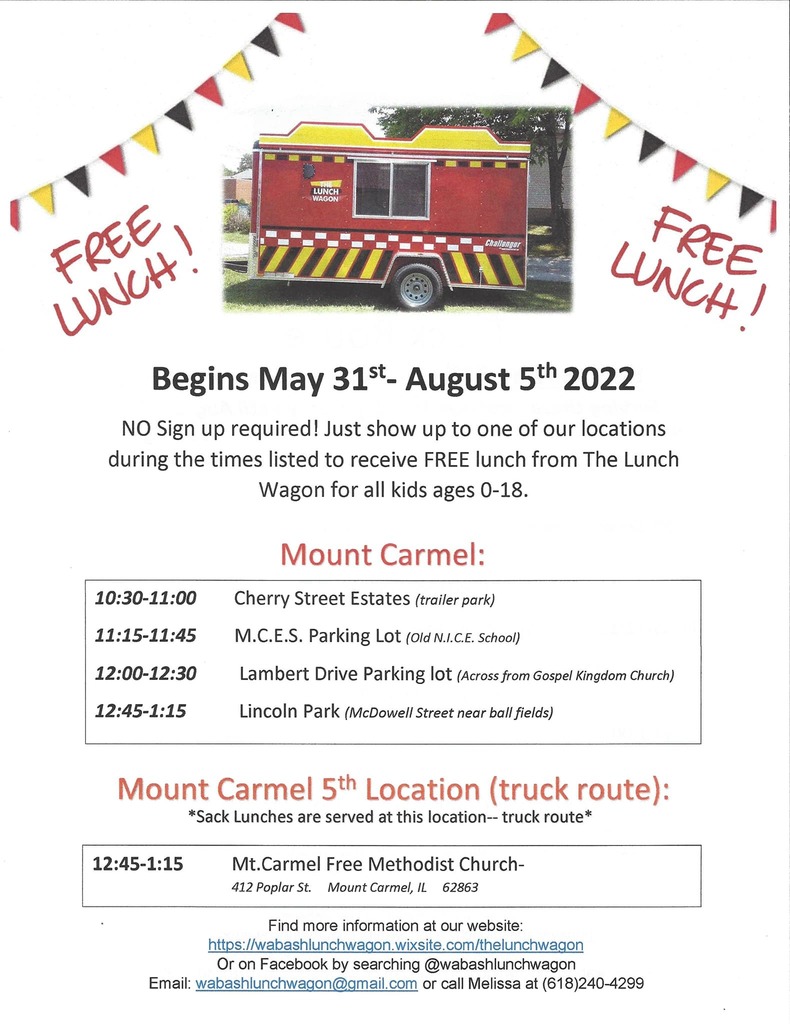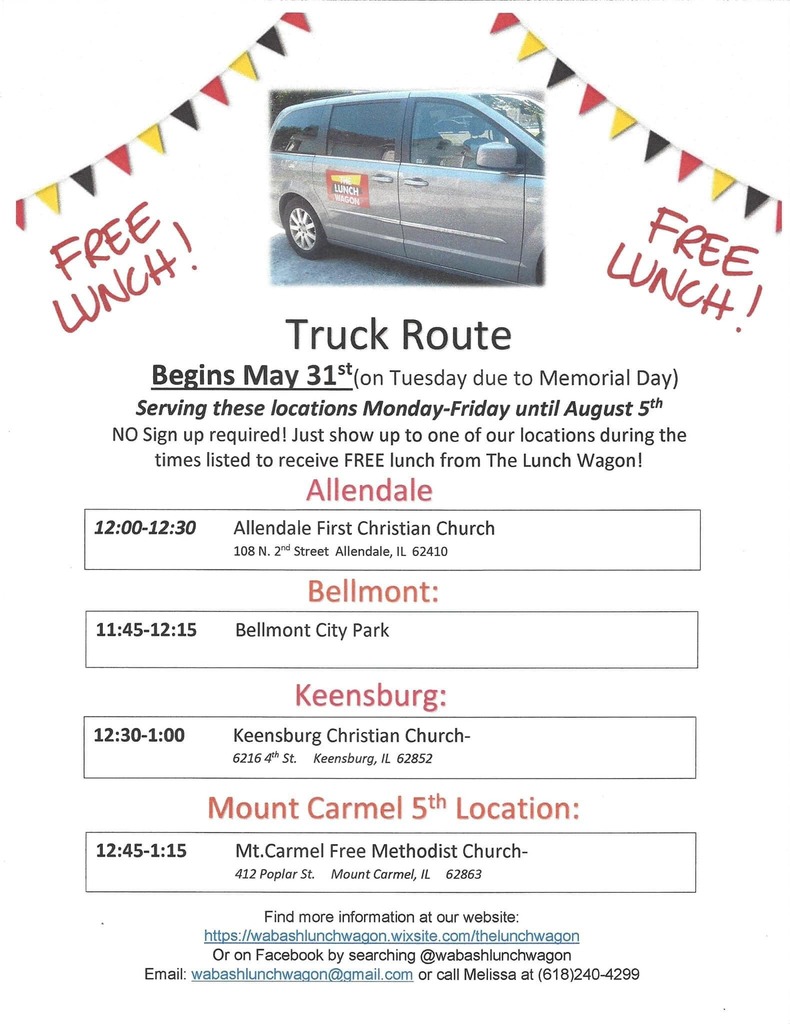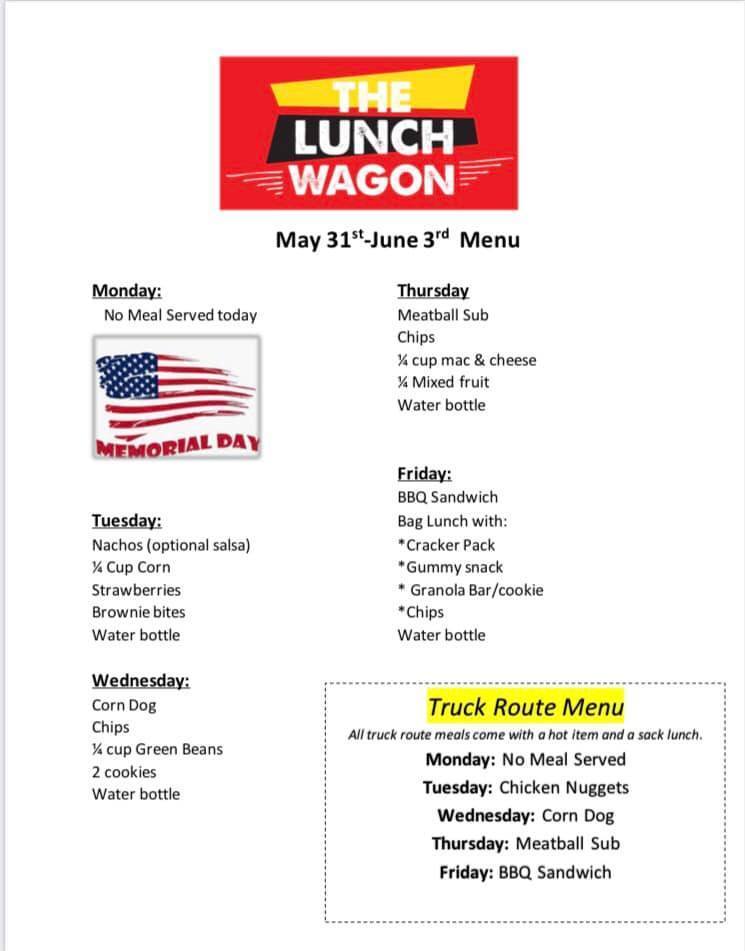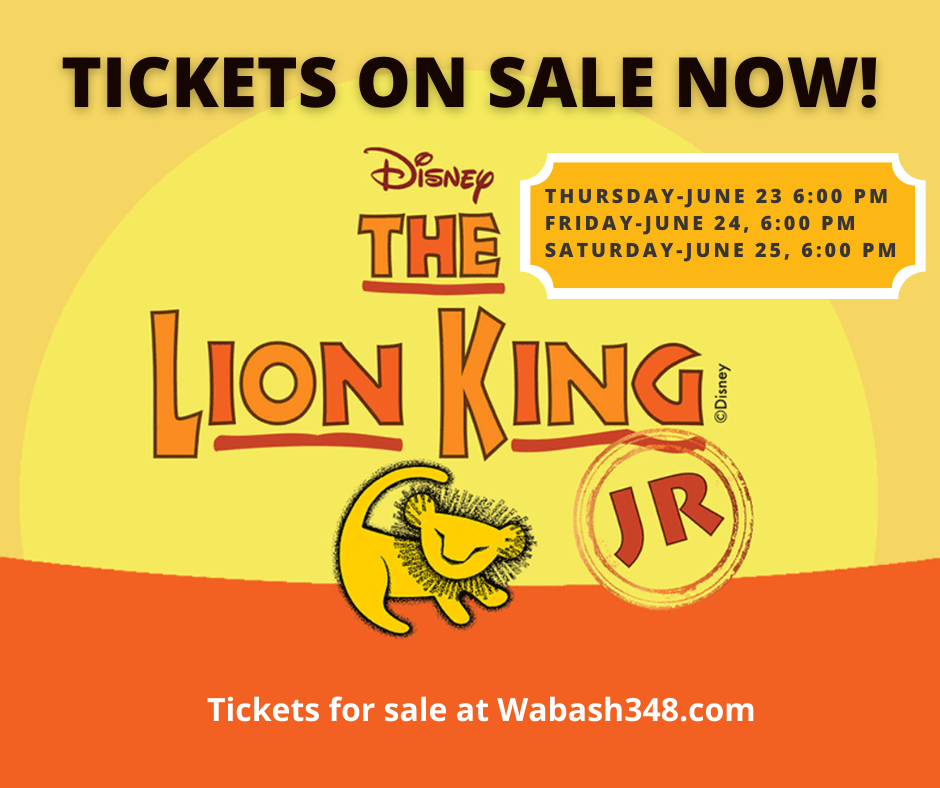 Wabash CUSD #348 is in the process of planning and developing the 2022-2023 Title I budget to promote the academic growth and achievement of our students. Your input is essential in establishing and accomplishing our future goals and preparing our students to meet or exceed grade-level expectations. Please take a brief moment to fill out this short survey. Thank you. >>
https://www.surveymonkey.com/r/2122psurvey
<<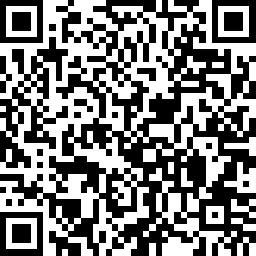 Walk-In Immunization clinics through the summer will be available at Wabash County Health Department for school shots & lead screenings. Tuesday, June 7th 7am-5pm. Tuesday, July 12th 7am-5pm. Tuesday, August 9th 7 am-5pm.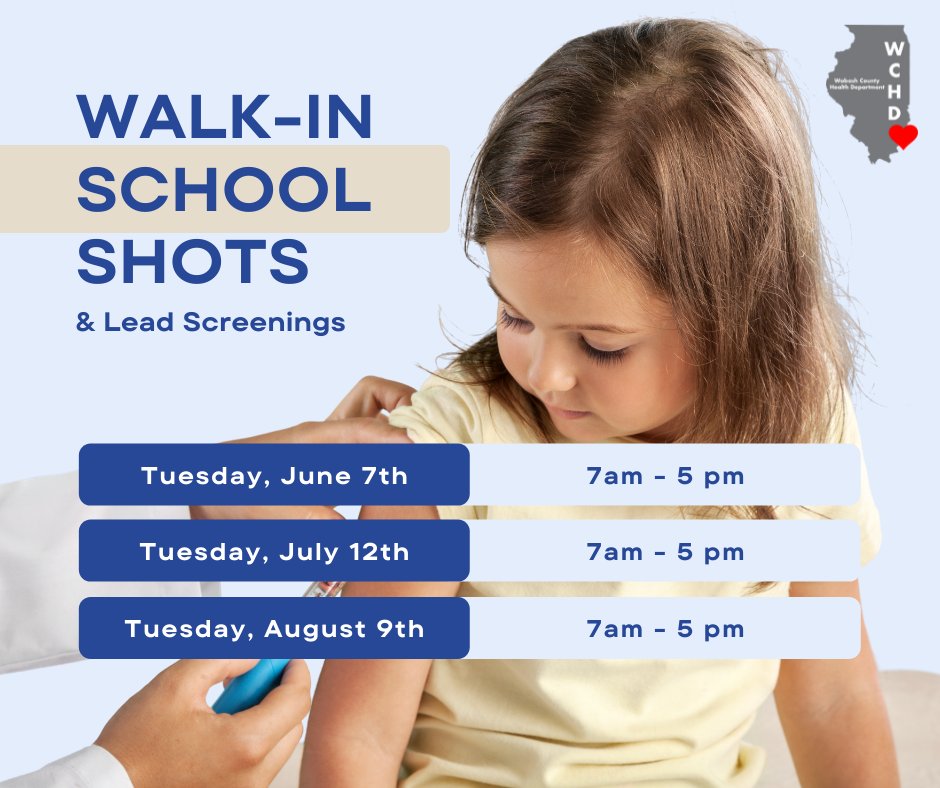 Don't miss the MCHS CEO TRADE SHOW tonight! April 25th, 4:30 p.m. - 7:00 p.m. at the 4-H Center's Anderson Building, 15039 4H Center Lane, Mount Carmel, IL. Come visit and support 10 new student businesses developing in the area. Featuring: Aleah Thrift, Allen Athletics, The Bubbly Tea Company, Grandma's Outdoor Service, Effie Faye & Co, DK Moving, RayAnn Photography, ATB Monument Restoration, Sweet Box Bakeshop, and Upcycled Creations by Caden.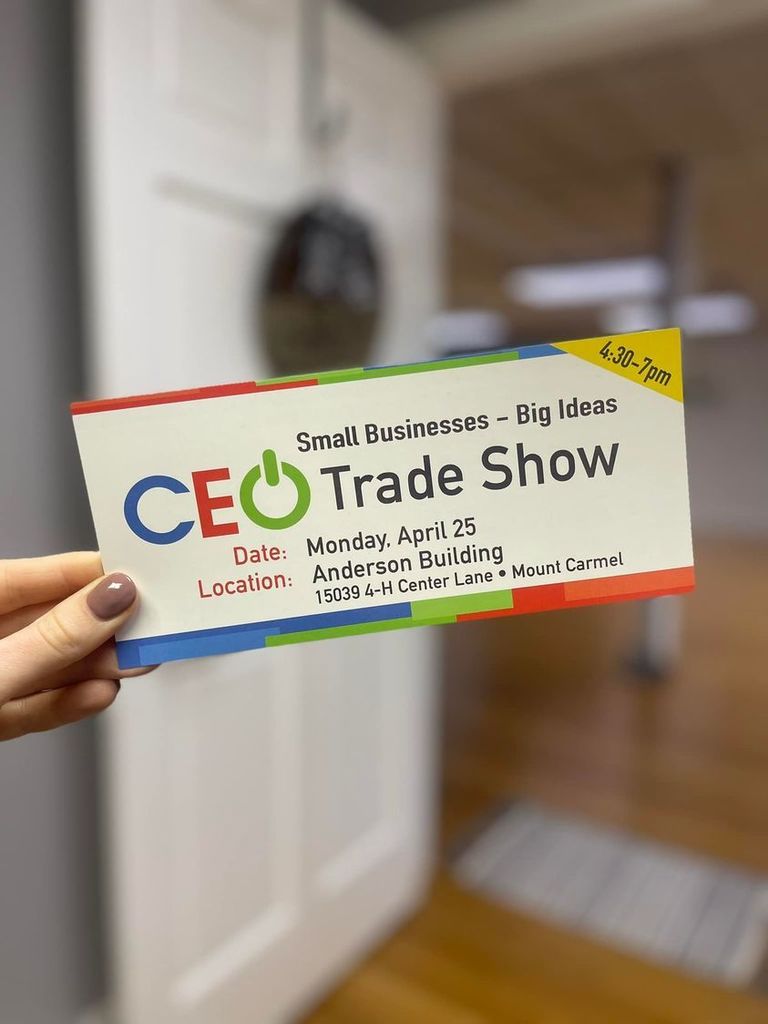 District #348 Preschool for All is conducting Child Find/Preschool Screenings for Birth to 5-year-old children not yet enrolled in public schools and who are not kindergarten eligible. There are currently 15 appointments left. Head Start personnel will also be present to explain their program and services. Screenings will be held on April 4th, 5th and 6th. Children ages 0-3 will only be screened on April 6th. The screening procedure takes about 45 minutes, and appointments must be made so that children do not have a long wait period. Parents should call 618-262-4623 to make an appointment or to get more information.

The annual statewide Illinois 5Essentials Survey is coming to an end on March 11, 2022. If you have not already, please tell us what you think about Wabash Community Unit School District #348 and how we can improve by participating. This opportunity will allow you to share your thoughts on the important elements of school effectiveness in a confidential survey about the school. Please visit
https://survey.5-essentials.org/Illinois/
and select the appropriate survey to begin. We are aiming for 100% participation from our Golden Aces students, parents, and teachers. Thank you! SCHOOLS are listed as: Mt Carmel Elementary School - 1300 N Walnut St Mt Carmel Grade School - 1520 Poplar St Mt Carmel Junior High School - 201 N Pear St Mount Carmel High School - 201 N Pear St

It's that time of the year again!! Time to start making those appointments for the 2022-2023 school year. We always think we have time to do that later but later comes quickly and before you know it the appointments are full and you find yourself scrambling to get your child enrolled in school. Physical, dental and eye examinations should be scheduled now so they can be completed prior to registration opening in August. Please see the attached requirements by grade to see if your child will have a health requirement for school. If you have any questions please call 262-5104 ext 112. Thank You! Stephanie Kolb RN, BSN, PEL-CSN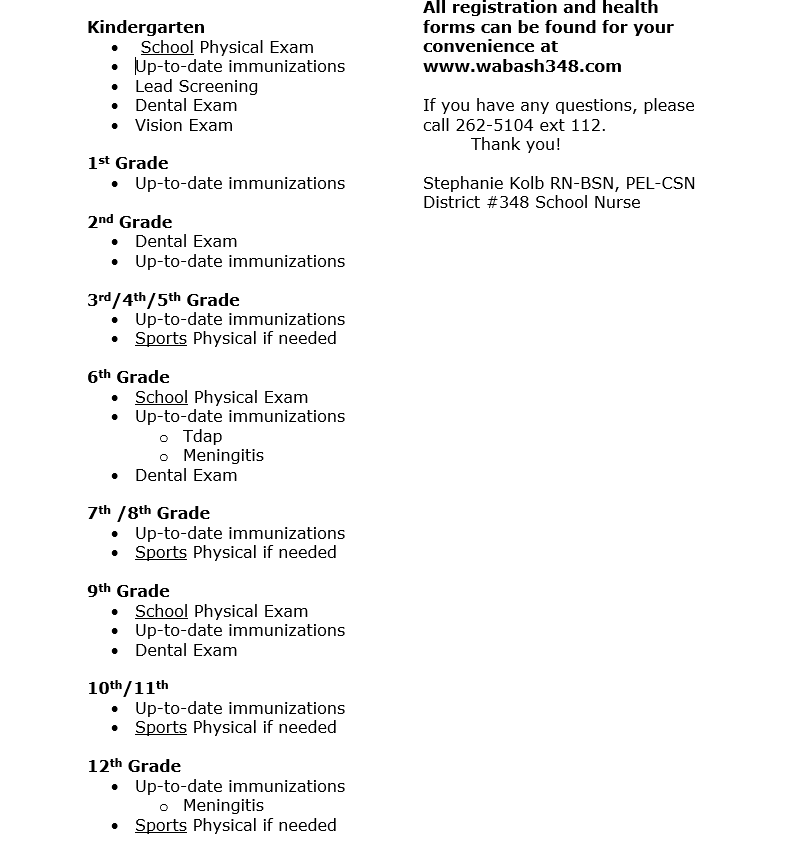 Due to the increasingly icy conditions, all Wabash County Schools will not be in session tomorrow, February 24. Stay safe and Go Aces.

JOIN THE GOLDEN ACES FAMILY!!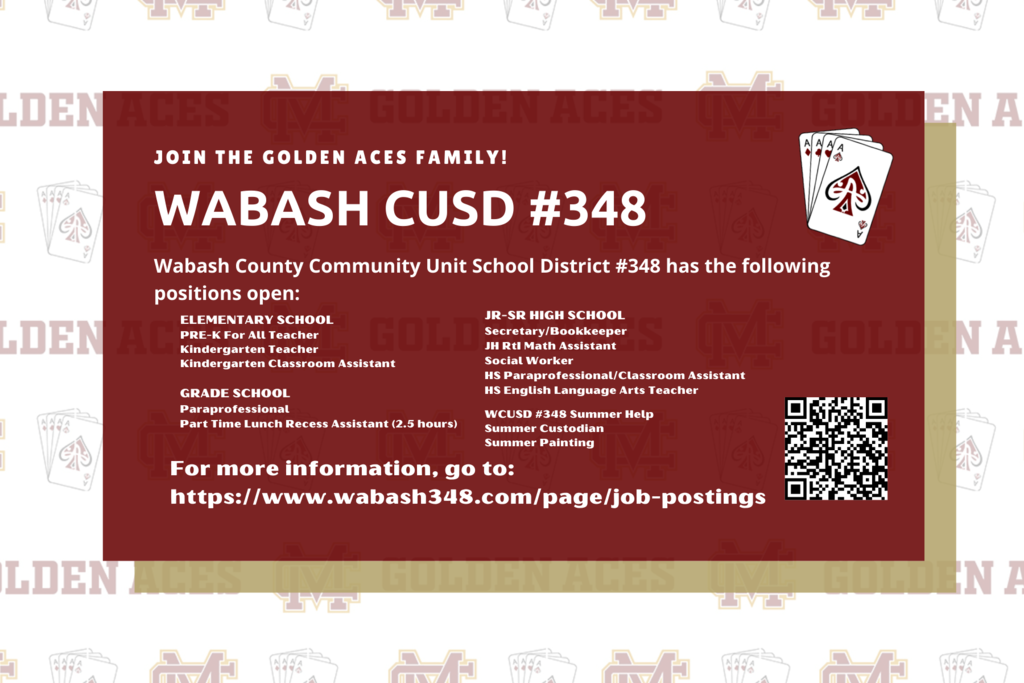 Beautiful Lives Project - Court of Dreams Basketball Event with the Olney Central College Blue Knights. beautifullives.org/events/olneybasketball.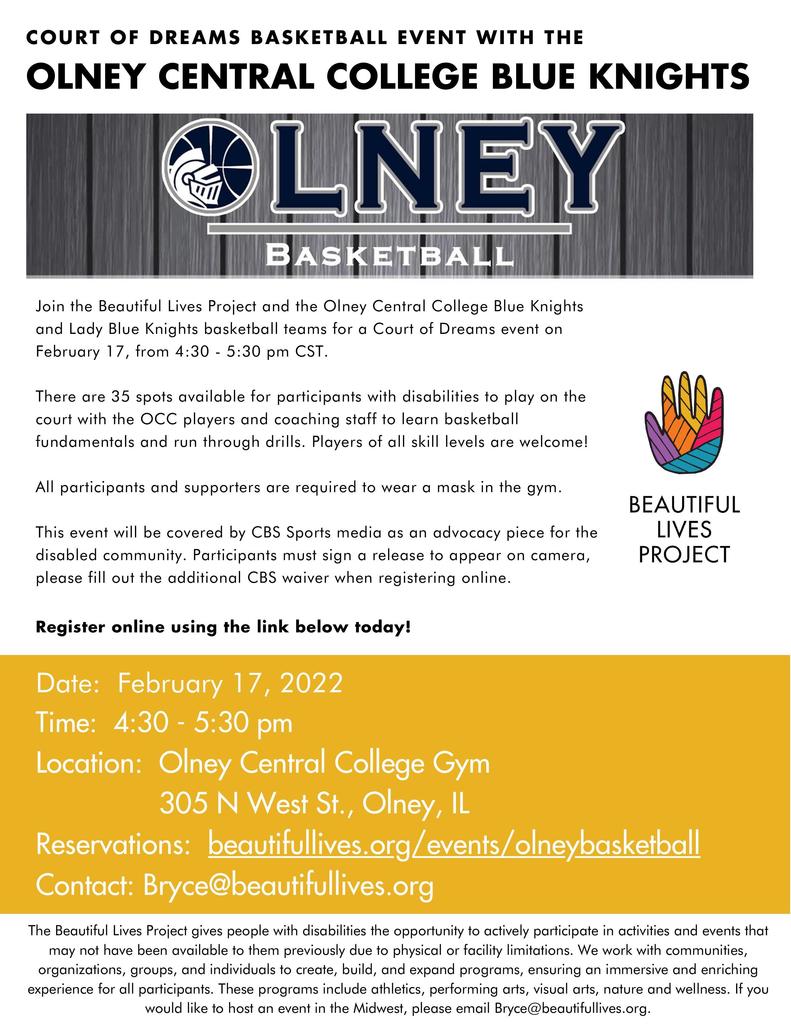 All Wabash County Community Schools will be closed tomorrow, February 4. For extracurricular activities, instructors and coaches will communicate with the students. Stay safe and Go Aces.

All Wabash County Community Schools will be closed tomorrow, February 3, due to inclement weather. Additionally, all extracurricular activities will be cancelled. Stay safe and Go Aces.

Due to an increase in the absences of faculty and staff, Mount Carmel High School and Mount Carmel Junior High School students will go into remote learning for the rest of this week. January 20 to January 21. Over the weekend, we will assess the situation and make a determination on resuming in school learning. All extra curricular activities will remain on schedule. Stay safe and go Aces.

This is a reminder that Mount Carmel High School will reopen tomorrow, January 18, for a normal school day. The Allendale bus will leave at 7:30 am. Thank you for your patience during the last week. Stay safe and go Aces.


Due to a lack of faculty and staff coverage, beginning tomorrow, January 11th - January 17th, Mt. Carmel High School students will be placed on Remote Learning status. This adaptive pause will insure that the Junior High, Grade School, and the Elementary school will remain in operation. As long as there is proper adult coverage, all high school extracurricular activities will remain on schedule. If coverage is not satisfactory, those events may be canceled. Food will be available for high school students and may be picked up between 12 pm and 12:30 pm. Teachers are currently transitioning to remote learning and will be communicating with the students. If you have any questions, please contact the high school office.

Letter to the Community Concerning Incident 1-6-22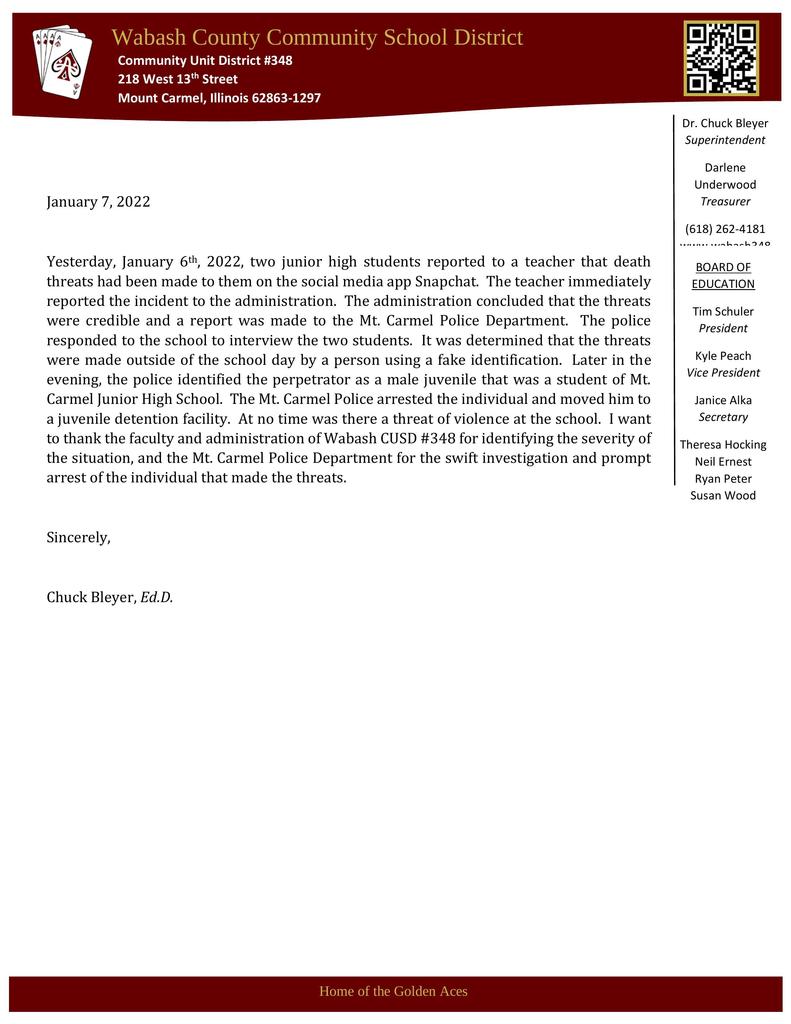 The Grinch stopped by the District Office today. He made himself at home and left a generous gift for the Superintendent.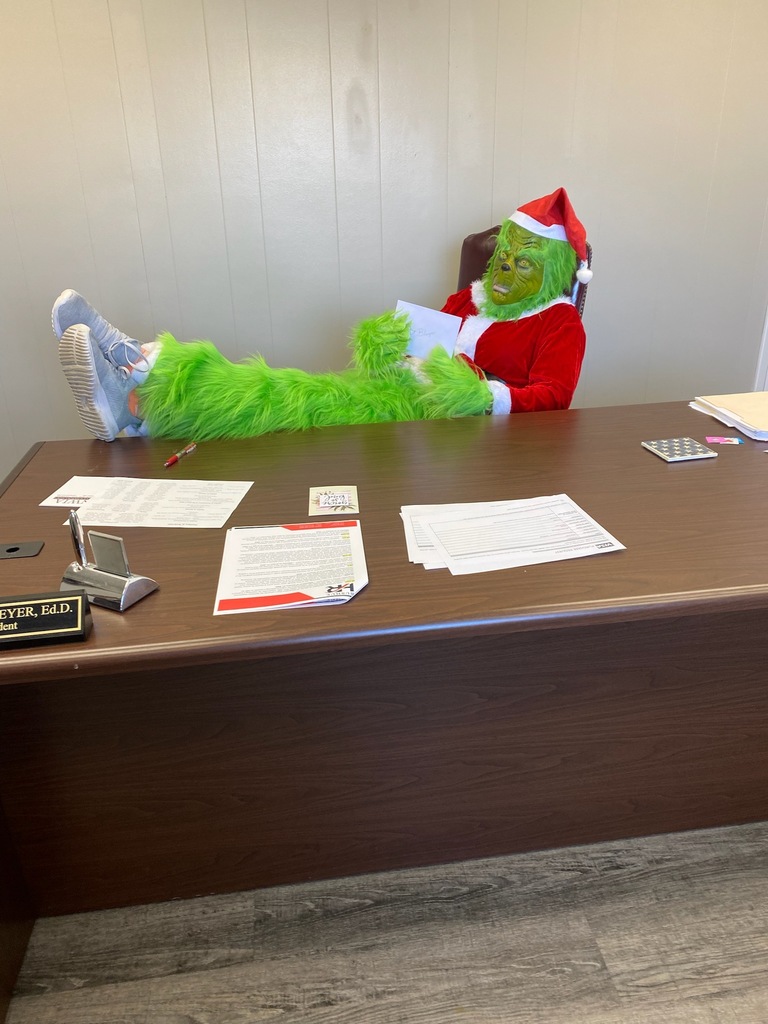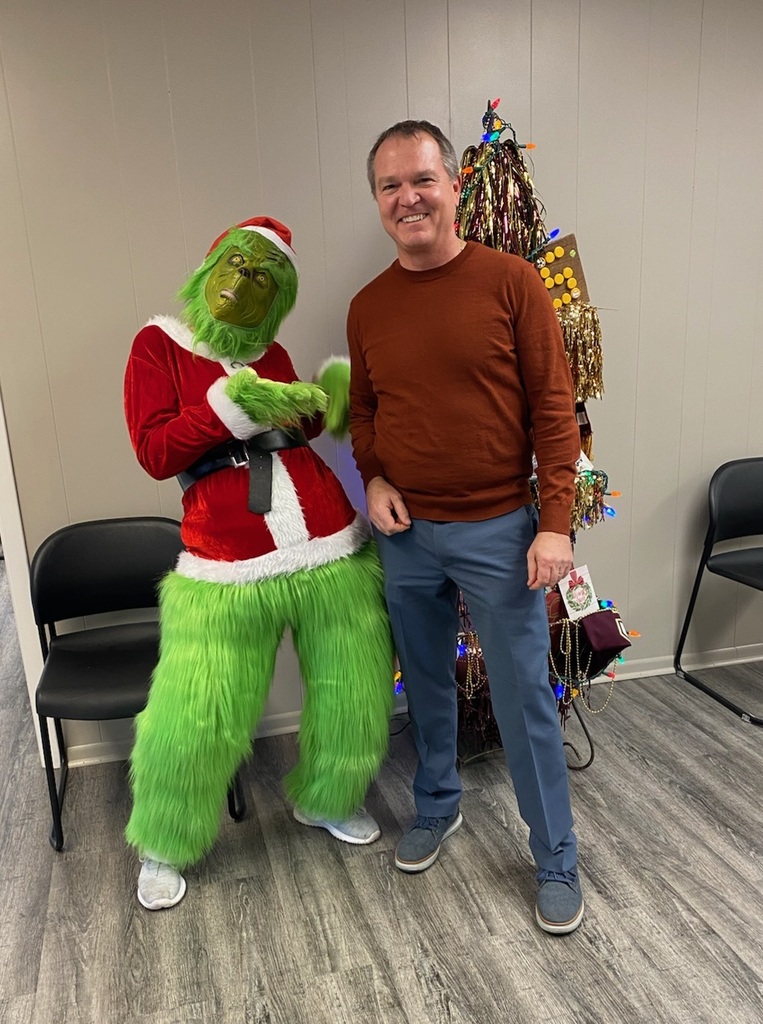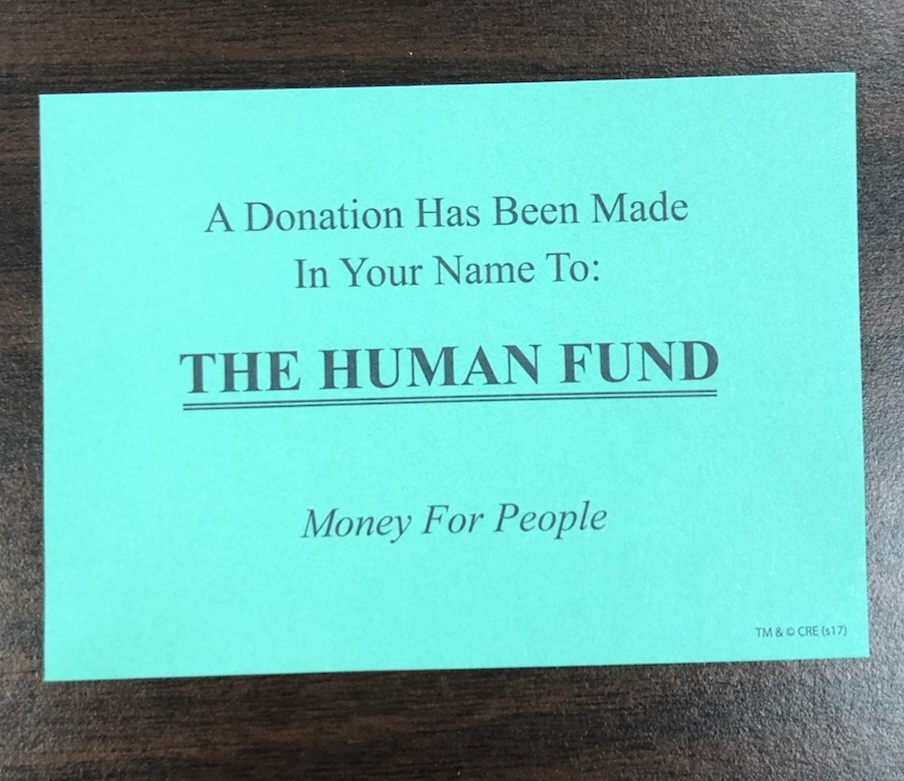 MCHS Woods and Construction Department is accepting bids for three decommissioned workbench table tops. See Bid Notice below.